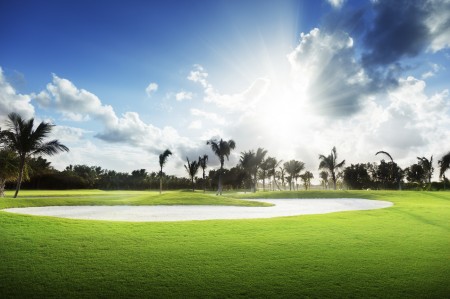 You do realize you are vacationing in the "Golf Capital of the World", right?  Though the Grand Strand may have enticed you with the large plethora of family vacation attractions, from aquariums to sandy shores to shopping, golf in Myrtle Beach isn't anything to just pass by. CondoLux and our NorthMyrtleBeachGolf.com division books over 80 golf courses in the area, so you are bound to find one near you and within your price range.
So let's say you are on vacation and you feel like playing a round of golf in the Myrtle Beach area.  Then what?  You think it's too late. Nope, there are even special last minute golf rates for such an occasion. Or you might realize you can't play golf without a set of clubs. You can rent clubs, we can tell you where. This supposed to be a "family" vacation? Well, there are courses that have junior rates or even free plays for kids depending on the time of year.  And let's face it, your spouse might very well want a morning to just sit on the beach and read a book.
So there you are, no excuses.
But how do I choose what course to play?  Well first, you need to ask yourself, do you care about course condition?  Difficulty?  Price?  Maybe you don't really care, but just want to get out there? Well, we've made it as easy as possible for you.
Golf Courses Sorted by Area
North End Golf Courses
Central Golf Courses
South End Golf Courses
Don't feel like looking?   Or maybe you need to find out what is even available at the last minute?  Call the CondoLux golf department at 843-272-2073. Our Myrtle Beach golf directors have the inside scoop on the courses down here and can tell you exactly what is available and will find something for your price range.