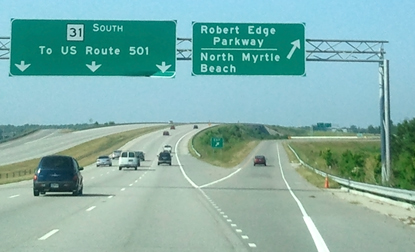 Those of you coming on vacation this year to North Myrtle Beach should be aware of the new Main Street Connector, aka Robert Edge Parkway that comes off of Hwy 31 and goes right into the heart of North Myrtle Beach (ehrm, Main Street.)  While it isn't new to the locals, (been open for a year and a few months now I believe) those who do not regularly come to North Myrtle Beach will be surprised on how much time it saves.
If you are heading into North Myrtle Beach coming from Hwy 9, you can hop into Hwy 31 from Hwy 9 and then take the next exit (pictured above). OR, if you are coming in from Hwy 22, take Hwy 31 North until you get to Robert Edge Parkway. Either way you shake it, you will be heading over the Intracoastal Waterway and in North Myrtle Beach, SC before you know it!
This little addition not only makes the daily commute for locals easier, but divides up the vehicles from the busy incoming traffic on Saturdays to the North Myrtle Beach area.