So you've heard the buzz about the new zipline in Myrtle Beach opening soon. And you may or may not heard of the zipline in Broadway at the Beach that's been adding thrills for the last year.  Well you're in luck, because we have all of your questions answered right here.  Ziplining in Myrtle Beach is getting popular and is a great way to get a cheap thrill of flying through the air and view the beautiful scenery that Myrtle Beach has to offer!
Soar & Explore Zipline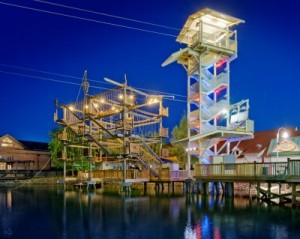 Soar and Explore is the prime place to go ziplining! Located in central Myrtle Beach at Broadway at the Beach, this zipline hangs 50 feet over the central lake and travels 1,000 feet from tower to tower! It is owned by WonderWorks, the new upside down building in Myrtle Beach, SC. The company claims to have a great zipline and promises a "smooth zip" with intense fun! All of this fun and it isn't even costly. It costs $19.99 but combo packages are available. Closed shoes are required, and you must be 54″ tall to ride. There is a minimum weight requirement of 80 pounds and a maximum of 300. The course is lit up at night to ensure a safe and fun ride on the zipline for everyone! Soar and Explore is located near other attractions including the IMAX Theater, Myrtle Waves and Ripley's Aquarium. It is about 25 minutes away from North Myrtle Beach and 15 to 20 minutes away from the South end.
Myrtle Beach Zipline Adventures Zipline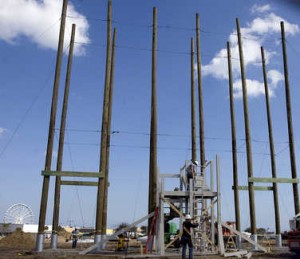 If you drive past the two lots where the Pavilion once stood, you will see construction taking place of the new massive zipline attraction in Myrtle Beach. Poles have already been placed for the 65 feet towers, where guests will shoot 600 feet on a "very fast" ride, says the owners of Myrtle Beach Zipline Adventures. The Zipline construction is moving forward quickly and is expected to be complete by April 1. It will be open just in time for summer! So tourists get ready for one of the best attractions to ever come to Myrtle Beach! The companies constructing this project are Miller Design Services and Adrenaline Adventure Courses. They are leasing the land from Burroughs and Chapin Company and also own another lot on South Ocean Boulevard where they plan on putting a second zipline. It will have a Carolina Beach Shack Theme and will most likely be called Myrtle Beach Adrenaline Adventures.
—-
Learn about other attractions in Myrtle Beach, SC.