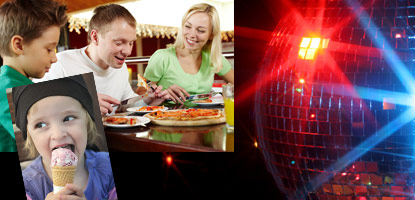 Some new or opening soon places in the area to check out in the Myrtle Beach area!!
1. Marsh Walk Market – South Carolina artists and crafts persons will sell their wares – including food stuffs, at the former Short Bar. This new venue is under construction now and expected to be open Spring 2013. Location: 4078 U.S. 17 Business, Murrells Inlet.
https://marshwalkmarket.com/
2. Night Fever Retro Party Club – Brand new "Party Bar" concept slated to open July 20. Night Fever offers a venue that is reasonably priced, ULTRA interactive, fun and safe. Interactive DJs lead dance-a-long and sing-a-long routines to dance and party music that everyone knows and loves from the 1970's to today and beyond. The highlight of their concept is "Where Retro Meets Technology". They use the music of yesterday combined with today's technology. Location: 9714 N. Kings Highway (Magnolia Town Centre), Myrtle Beach, 843-808-9542
https://www.nightfevermb.com
3. Sir Pizza – First (currently only) Sir Pizza in South Carolina! Features a tempting buffet, full service menu as well as a pick up window for call ahead takeout orders. Location: Barefoot Commons (Bi-Lo shopping center), 3900 Hwy. 17 S, North Myrtle Beach, 843-663-4000
https://www.sirpizzasouthcarolina.com/
4. Island Reef's Frozen Yogurt – several flavors of yogurt, along with over 40 toppings and two sizes of bowls, waffle bowls made fresh daily to cure your sweet tooth. Location: 3600-3 Highway 17 South (Windy Hill shopping center next to Honey Baked Ham and Southern Cupcake), North Myrtle Beach, 843-427-7556
5.  Myrtle Beach Zipline Adventures (located between Damon's and Springmaid Pier) –  View the ocean and beach while zipping 600 feet (two football fields in length!) from tower to tower , with speeds up to 40 mph.   Four line design layout for adults, kids, and families with a 40 foot powerfan to finish your tour.   Free fall tower with a 50 foot drop!  Get that "adrenaline" flowing.   For sizes 35lbs to 285lbs.
Location:  321 9th Ave. N, Myrtle Beach, 843-839-9477
https://mbziplines.com/
6.  Family Fun Night – Thursdays in July and August at the Food Court, Myrtle Beach Mall. 5:00 PM – 8:00 PM – Kids meal deals, FREE face painting and balloon art (really nice too!), free arts and crafts, free kids ID program, 2 for 1 Cubby Caboose train rides (normally $3 each), and more! Also shop the over 70 stores in the Mall! Location: 10177 N. Kings
Hwy., Myrtle Beach, 843-272-4040.
7. Farlo's Burrito Bar – 25-30 seat Southwestern style burrito and taco restaurant. Simple menu with fresh, local ingredients. Also features a 21 foot bar, state of the art sound system, HDTV and Wi-Fi. Location: 815 Main Street, Myrtle Beach, 843-712-2307
ZIPLINE ADVENTURE