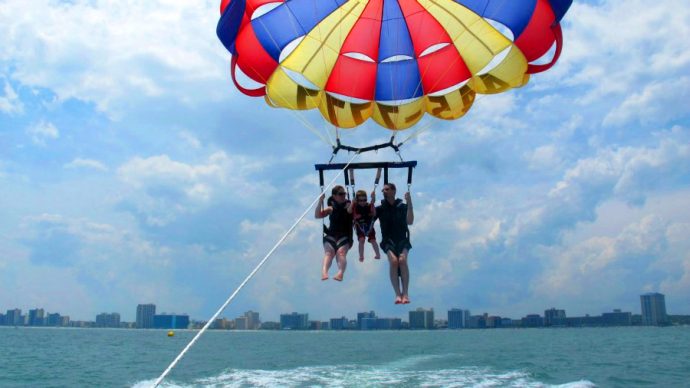 Have you ever dreamed of soaring through the sky over the ocean? You can do that when you go parasailing in Myrtle Beach. Myrtle Beach has plenty of options when it comes to parasailing and if you are looking to get a great view of the Grand Strand, it's an activity you will definitely want to try. Check out these great parasailing locations in North Myrtle Beach and along the Grand Strand.
Myrtle Beach Watersports
Myrtle Beach Watersports offers parasailing in Myrtle Beach, Little River and North Myrtle Beach. You can enjoy the rush of soaring high above the ocean or sit back and enjoy the view. Myrtle Beach Watersports also offers many other water activities, including jet skis, boat rental, dolphin watching and more. No matter where you are stayin at the beach, there is a Myrtle Beach Watersports near you.
Parasail Express
Parasail Express offer the highest and longest flights. With the option to fly solo, double or triple, Parasail Express is a great activity for the whole family to enjoy.  Flights take off and land on a boat and there are plenty of other activities to enjoy including, scuba diving, dolphin tours and banana boat rides.
Ocean Watersports
Ocean Watersports offers great views of the Grand Strand while providing a safe and fun experience.  Parasail adventures can hold up to three people and is great for people of all ages. Ocean Watersports also offers banana boat rides and ocean kayak rentals.
Downwind Sails Watersports
Downwind Sails Watersports offers different types of parasailing fun. You can choose to sail high and enjoy the thrill or sail lower and just relax and enjoy the water and the view. Downwind Sails Watersports also offers jet skis, banana boat rides, kayak rides, sailboat rides and rentals.