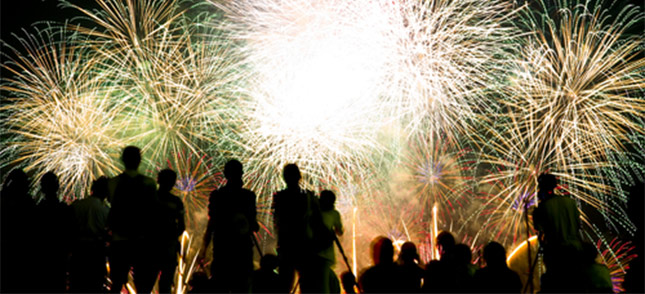 [space height="20″]
Need some Fourth of July plans this year? Look no further! We have found three great events that are sure to entice you to celebrate this years holiday!
Fireworks in North Myrtle Beach
Cherry Grove Pier – July 4, 2013 – 9 PM
3500 N Ocean Boulevard, North Myrtle Beach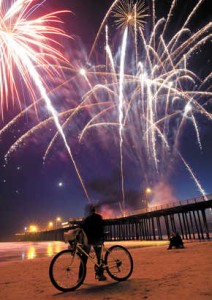 Want to celebrate July 4th in a big way but in a smaller setting? We have you covered on that one too. Fireworks will be shot off the Cherry Grove Pier at 9 PM but heed my advice: be sure to get there a good 30-40 minutes early because this is one area on one night that gets p-a-c-k-e-d! Cherry Grove is such a laid back beach town and they really know how to do fireworks right. This is an event where you can park and sit in your car or grab that sandy beach towl out of the trunk and go lay down on the beach and have the best view. Don't make any important plans for afterwards because I can almost promise you that there will be traffic on your way out.[space height="20″]
[space height="20″]
Barefoot Landing – July 4, 2013 – 10:15 PM
4898 US 17, North Myrtle Beach – Fireworks displayed over the lake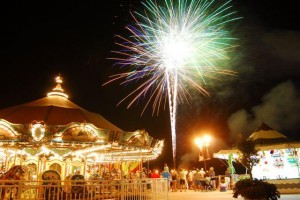 Not only is Barefoot Landing good for shopping, dining and walking hand in hand with your someone – it is also your place to smell the smoky scent of a firework being lit and fly off into the night sky over the lake. Enjoy a day of window shopping, have a nice meal with the family and then make plans to gather around the lake to bring in Independence day. You also have the option to turn back the sunroof in your car and watch the fireworks from the comfort of your own vehicle equipped with air conditioning. For a great view though, gather around the lake, mingle and talk and experience a breathtaking assortment of fireworks. As always, try and get there early to get a decent parking spot.[space height="20″]
Fireworks in Myrtle Beach
Plyler Park/Myrtle Beach Boardwalk – July 4, 2013 – Concert 8 PM/Fireworks 10 PM
N Ocean Boulevard, Myrtle Beach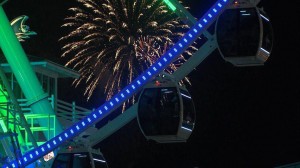 Fireworks, concerts, carnivals – oh my!!! This July 4th pack the whole family in the car and head to the Myrtle Beach Boardwalk to enjoy a night of sparkling fireworks, energetic music, and rowdy rides for the kids. Not only will there be an explosive fireworks extravaganza beginning at 10 PM, but you will also get the chance to enjoy the vibrant sounds of music played by The Reggie Sullivan Band. Will this event be worth it? Yes it will totally be worth it! I can't guarantee you won't hit traffic on the way home, but I can promise you will walk away with song lyrics stuck in your head and cotton candy stuck to your shorts.  BONUS TIP:  The Skywheel is open until midnight that night, so if you want a super awesome view, you can always take a ride at fireworks time![space height="20″]
[space height="20″]
Myrtle Beach Pelicans Stadium – July 3, 2013 – 7 PM
1251 21st Avenue N, Myrtle Beach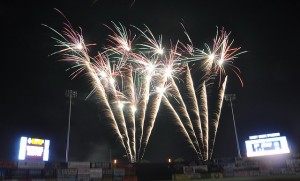 Take me out to the ball game; take me out to the crowd! Celebrate Independence Day the way it was meant to be celebrated – BASEBALL! The Myrtle Beach Pelicans will be dazzling all of you hot dog eating, fly ball catching, and finger foam waving fans with their fabulous fireworks display at the game. Game time is 7 PM and tickets are $13. Take a morsel of parking wisdom from a local who's walked her share of miles to catch Thirsty Thursdays at the Pelicans Stadium. In short, parking can be brutal. Show up AT LEAST 40 minutes before game time. Arriving early not only guarantees you a parking spot that won't be in the grass by the highway, but it leaves time for a restroom break and a trip to the hot dog stand. Don't forget to grab a classy beverage of choice and of course, that beautiful foam finger.
Fireworks in Murrells Inlet
Murrells Inlet Marsh Walk – July 4, 2013 – Boat Parade 5 PM/Fireworks 10 PM

Palmetto Pride – Inlet Tide! That is this year's theme for the boat parade and fireworks display in Murrells Inlet beginning at 5 PM. The boat parade sets sail from Garden City Point, continues down the Murrells Inlet Marsh walk, travels along the shoreline and ends up at the Hot Fish Club. Want the best seat in the house? Places to pop a squat include: Belin Methodist Church, Nance's Restaurant, and the Hot Fish Club. The actual fireworks display shoots off at the end of Veteran's Pier. Boy Scouts Troop 396 will be selling annual Boat Parade t-shirts at Booty's Outdoors and Garden City Realty in Murrells Inlet. Be sure to grab one when you come down to the Inlet for a bustling 4th on the serene marsh walk.
Where to Watch 'Em at the Marsh Walk:

[list type="bullet"]
Murrells Inlet 4th of July Boat Parade & Fireworks Display
Belin Methodist Church: 4182 US 17 Business, Murrells Inlet
Nance's Restaurant: 4883 US 17 Business, Murrells Inlet
Hot Fish Club: 4911 US 17 Business, Murrells Inlet
[/list]