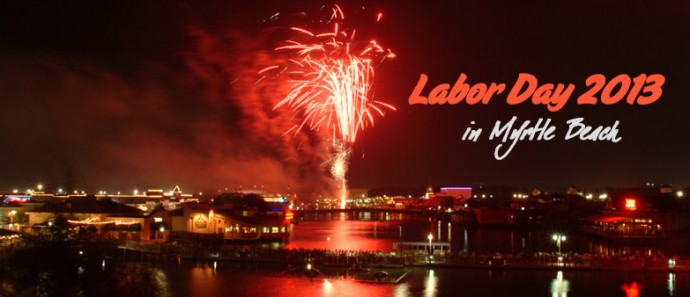 Summer is in its home stretch, and Labor Day weekend, for many, is a great time say goodbye to the heat of summer with one last beach trip. And to make it even better, CondoLux has some amazing Labor Day deals and specials on vacation rentals to help you celebrate Labor Day in North Myrtle Beach, South Carolina while also saving you some cash.
There are tons of festivities and events for the whole family happening along the Grand Strand over the weekend; here's what looks good to us:
View Rental Availability and Deals for Labor Day
August 30 – September 1
Beach Boogie & BBQ Festival, Grand Park, The Market Common, Myrtle Beach, 843-626-7444
Low and slow is the motto for southern BBQ. Come out for a weekend of festivities and competition BBQ at The Market Common. Celebrate Labor Day with arts & crafts, a kids play zone, music, and of course, BBQ!
Fri, Sat, Sun: All day outdoor event
Price: Free
https://www.myrtlebeach.com/myrtle-beach-events/show/8th-annual-beach-boogie-bbq-festival/
August 31 – September 2
Myrtle Beach Pelicans vs. Carolina Mudcats, TicketReturn.com Field, 21st Ave. & Grissom Pkwy, Myrtle Beach, 843-918-6077
I don't think you can have summer without baseball! Celebrate the last of the dog days with the Myrtle Beach Pelicans, our hometown minor league team and single A affiliate for the Texas Rangers. Watch the Pelicans take on the Carolina Mudcats over Labor Day weekend, and enjoy a post-game fireworks display after the games on Sept. 1 and 2. Pelicans games are great for families, with lots of giveaways and between inning entertainment.
Sat: 7:05 PM; Sun: 6:05 PM; Mon: 6:05 PM
Price: $6-13
https://www.milb.com/schedule/index.jsp?sid=t521&m=08&y=2013
August 31
Summer Breeze Music Fest, La Belle Amie Vineyard, 1120 St. Joseph Rd., Little River
Kick back at La Belle Amie Vineyard listening to live music, tasting local wines and delectable treats, and touring the vineyard. It's an all-ages, all-day celebration sure to get your Labor Day holiday off to the perfect start.
Sat: 12:00-5:00 PM
Price: $8 for adults; (under age 18 or over age 80 get free admission); Bring 2 canned/dry food items for area food bank and receive $3 off admission.
https://labelleamie.com/
Pier Fishing at Myrtle Beach State Park, 4401 South Kings Hwy, Myrtle Beach, 843-238-0874
Catch some sunshine and hopefully some fish this weekend by doing some pier fishing at Myrtle Beach State Park. Learn the basics of saltwater pier fishing, such as proper bait and tackle. Bring your own fishing gear or rent some from the fishing pier. Nature Center rental poles are $5 per class. Bring your own bait or buy some from the fishing pier- we recommend shrimp. Due to limited space, this program requires pre-registration. Register the week of the program: Call the Nature Center at 843-238-0874 or stop by during operation hours.
Sat: 8:00-9:30 AM
Price: $5 equipment rental if you do not bring your own; park admission is $5 per vehicle
https://www.myrtlebeachsp.com/
Fireworks Extravaganza, Broadway at the Beach, 1325 Celebrity Circle, Myrtle Beach
Close out the evening and say goodbye to summer with a spectacular fireworks extravaganza over Lake Broadway.
Sat: 10:00 PM
Price: Free
https://www.broadwayatthebeach.com/eventscalendar.aspx
Labor Day Fireworks Show, Second Avenue Pier, 2nd Ave. & Ocean Blvd., Myrtle Beach, 843-445-7437
Head down to the 2nd Ave. pier or sit nearby on the beach and watch the end of summer display overhead!
Sat: 10:00 PM
https://secondavenuepier.com/
September 2
Long Miles and The Movement, The Boathouse, 201 Fantasy Harbour Blvd., Myrtle Beach, 843-903-2628
Long Miles and The Movement fuse rock, pop and electronic music at this free show at the Boathouse, a popular restaurant/bar on the intracoastal waterway.
Mon: 4:00 PM
Price: Free
https://events.myrtlebeachonline.com/myrtle_beach_sc/events/show/339499083-long-miles-and-the-movement
Hot Summer Nights Festival Kids' Carnival, Plyer Park at Myrtle Beach Boardwalk, 8th Ave. N along the oceanfront, Myrtle Beach
Celebrate Labor Day family style with this free outdoor kids' carnival. Games, music, performers, and more! The Blue Tie Guys Comedy Juggling shows will provide plenty of laughs. Get your picture with the living statues or the stilt walkers. Kids can enjoy bounce houses all night long. Other entertainment includes caricature artists and local singers.
Mon: 7:00-10:00 PM
Price: Free
https://www.myrtlebeach.com/myrtle-beach-events/show/hot-summer-nights-festival-kids-carnival/
Specials on Labor Day Weekend Rentals in North Myrtle Beach
Being such an exciting time to visit N. Myrtle, it's no wonder visitors flock to the area to celebrate Labor Day. Don't wait to book your rental, as we usually sell out for the holiday weekend fairly early on.
View Rental Availability and Deals for Labor Day
Searches other visitors interested in North Myrtle Beach have used to reach this page about labor day events:
fireworks labor day in myrtle beach, sc
north myrtle beach labor day weekend 2013
myrtle beach labor day specials