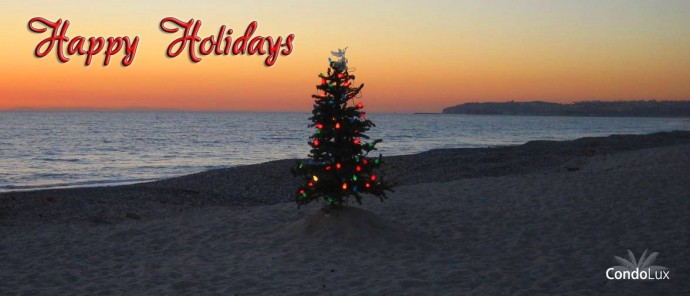 [separator]
Although the sight of white fluffy stuff is unlikely, Myrtle Beach is a great place to celebrate the holidays and get in the spirit. I mean, where else can you play a round of golf, take in a Christmas parade, and then cap off the day with an eggnog overlooking the ocean? The Grand Strand has an abundance of holiday shows, parades, festivals and events for the whole family. Here is a sampling of things to do with your loved ones to make your holiday both merry and bright.
Christmas and Holiday Shows and Events
The South's Grandest Christmas Show at The Alabama Theatre
4750 Hwy. 17 S., North Myrtle Beach, 800-342-2662
When: Nov. 1 – Dec. 31; 7:30PM (some 2:00PM matinees available-see link below for more details)
Price: $39.95-$49.95 for adults; children's tickets for 16 and under from $19.95
Celebrate the holidays in Myrtle Beach, South Carolina with the Alabama Theatre's award winning production, The South's Grandest Christmas Show. This year's Christmas extravaganza brings an incredible combination of talent, scenery and special effects to the Grand Strand to produce a spectacular new holiday musical experience sure to put you in the season's spirit!
The Carolina Opry Christmas Special
The Carolina Opry, 8901 N Kings Hwy, Myrtle Beach, 800-843-6779
When: Nov. 1 – Jan. 4; 7:00PM (some 1:00PM matinees available-see link below for more details)
Price: $27.19-$54.12
This music and variety Christmas show is in its 28th year, and this year adds recent American Idol contestant LaToya London to its ranks. The Calvin Gilmore-produced show features an award-winning cast of over 35 including Calvin Gilmore, Rita Gumm, Christie Templeton, Brad Long, Kym "Bogie" Shurbutt, Eric Gumm, a real horse-drawn sleigh and even real snow!
https://www.cgp.net/www/ChristmasSpecial/ChristmasSpecial.html
10th Annual Christmas Towne
Myrtle Beach Convocation Center, 2102 N. Oak Street, Myrtle Beach, 843-916-727
When: Dec. 1; 2:00-6:30PM
Price: Free
This festival kicks off December, and from the official press release the event will include free Santa photos, letters to Santa, amusement rides, games and much more. It concludes with the official tree lighting ceremony for the city of Myrtle Beach.
Tree Lightings
Fifth Night Lighting
Valor Park at Market Common, 4017 Deville St., Myrtle Beach
When: Dec. 1; 4:30PM
Price: Free
Rabbi Josef Naparstek will be joining us at Valor Park on Sunday December 1st at 4:30 PM for the Fifth Candle of Hanukkah lighting.
City of Conway Christmas Tree Lighting
Conway City Hall, 229 Main Street, Conway
When: Dec. 5; 6:00-8:00PM
Price: Free
Ring in the holiday season with the lighting of the city of Conway Christmas Tree and the arrival of Santa Claus.
North Myrtle Beach Christmas Tree Lighting
McLean Park, 93 Oak Drive, North Myrtle Beach, 843-281-2662
When: Dec. 6; 6:00-7:00PM
Price: Free
Come out for North Myrtle Beach's official tree lighting in McLean Park.
Christmas and Holiday Parades
North Myrtle Beach Christmas Parade
Main Street in North Myrtle Beach, 843-281-2662
When: Dec. 7; 5:30 – 7:30PM
Price: Free
For many years, the Annual Christmas Parade has brought delight and holiday cheer to North Myrtle Beach's residents. On Saturday, December 7th, 2013  the tradition continues as Main Street in North Myrtle Beach fills with familiar holiday songs, colorful floats, marching bands and beauty queens.
Surfside Beach Christmas Parade
11 N. Ocean Boulevard, Surfside Beach, 843-650-9548
When: Dec. 14; 2:00-3:00PM
Price: Free
Watch the annual Christmas parade with floats, music and Santa as it moves down Ocean Boulevard in Surfside.
https://www.surfsidebeach.org/calendar.html
Murrells Inlet Christmas Parade
Wilcox Avenue and U.S. 17 Business in Murrells Inlet, 843-357-2007
When: Dec. 1; 3:00PM
Price: Free
An annual Christmas parade rides through Murrells Inlet to ring in the season.
New Year's Eve Events and Parties
New Year's Eve Celebration and Fireworks at Broadway at the Beach
Broadway at the Beach, 1325 Celebrity Circle, Myrtle Beach, 800-386-4662, ext. 1225
When: Dec. 31; 8:00PM Fireworks
Price: Free; Admission to clubs and bars may vary
Send 2013 off with a bang & start your New Year's Eve celebration by enjoying the last fireworks extravaganza of the year at Broadway at the Beach! Brought to you by our friends at Helicopter Adventures.
https://www.broadwayatthebeach.com/eventscalendar.aspx
Children's Museum of South Carolina's Noon Year's Eve Party
Children's Museum of South Carolina, 2501 N. Kings Hwy., Myrtle Beach, 843-946-9469
When: Dec. 31; 12:00PM
Price: General Admission is $8.00 per person, children 1 and younger FREE; see link for additional event details
Let the kids bring in the new year while they are awake and ready to party! This afternoon "Noon" Year's Eve bash provides fun and hands-on entertainment for the whole family at the Children's Museum.
https://www.cmsckids.org/index.php
Hard Rock Cafe's New Year's Eve Bash, Hard Rock Cafe
1322 Celebrity Circle, Myrtle Beach, 843-946-0007
When: Dec. 31
Price: Call 843-946-0007 for additional details
If live music, food and drink are requirements for your New Year's Eve, the Hard Rock Cafe may be on your list of venues to visit on the last night of 2013. Conveniently located at Broadway at the Beach, the Hard Rock Cafe throws a large New Year's Eve bash sure to make your welcoming of 2014 a memorable one.
https://www.hardrock.com/locations/cafes3/events.aspx?LocationID=107&MIBenumID=3
House of Blues' New Year's Eve with Corey Smith
House of Blues, 4640 Hwy. 17 S., North Myrtle Beach, 843-272-3000
When: Dec. 31; 8:00PM doors
Price: $15.00-$52.50
American and country music cult favorite Corey Smith brings in the New Year at the House of Blues. Tickets should be purchased in advance by visiting the link below.
https://www.houseofblues.com/tickets/eventdetail.php?eventid=83952
Medieval Times New Year's Eve Extravaganza
Medieval Times Dinner & Tournament, 2904 Fantasy Way, Myrtle Beach, 888-935-6878
When: Dec. 31; 5:00PM
Price: Prices vary but start at $30 for children and $50 for adults for meal and show
This is sure to be a family favorite! Enjoy an epic show of knights, jesters, and medieval music as you dine like kings.
https://www.medievaltimes.com/