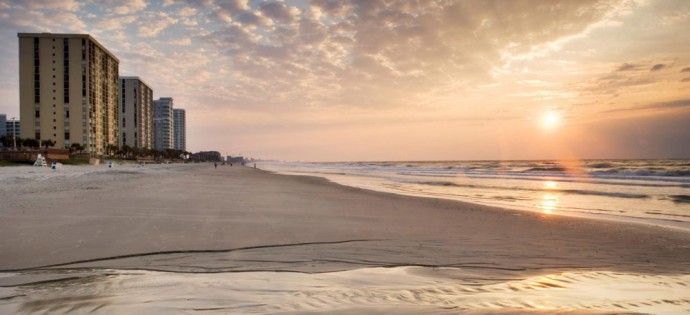 For many "up north," the over-abundance of pre-holiday snow blower sales and pumpkin-spiced everything is the signal to fly south for the winter. It makes sense: as the leaves in many parts of the country change hues, dry up, and fall to the ground, a sure signal of the frigid weather to come, many species of birds migrate south for more hospitable climes and an easier life. Likewise, for the many "snowbirds," our affectionate name for the winter-only visitors and residents that visit the Myrtle Beach region between October and March, life is still mild and easy with plenty to do. For me, that's enough. My bags are packed. But if you need more reasons, consider these:
Amazing monthly rates: One of the best reasons to visit us between October and March is the unbelievable winter monthly rates that you will find on condo rentals.

Weather is mild: Leave the bulky winter jackets at home. According to Weather.com, the average temperatures in October and November is in the low 70s, with December and January hovering around a cool 60 degrees, perfect daytime temps for combing the beach or hitting the links.

Golf deals: Specials on local golf courses are ridiculously good, and courses are often less crowded than other times of the year.

Fish on: Late-fall and winter fish runs are some of the best. Fish the inlets, piers and surf for anything from red drum to spotted seatrout.

Beachin' it, winter-style: The beaches are wide open during the winter, and the hard sands during low tides are perfect for bicycle rides, long walks, and beachcombing for seashells. In fact, many of the winter swells dump some excellent finds along the shore, and with little competition, who knows what you're likely to find.

Restaurants and shopping: Just because the summer visitors have left doesn't mean that our amazing dining and shopping options have shuttered, too. In fact, the winter season brings bushels of fresh, local oysters to markets and restaurants along the Strand. Nary a month goes by where you won't find a community oyster roast happening. Additionally, the diversity of shopping and entertainment at Broadway at the Beach, Barefoot Landing and Tanger Outlets give the shopping and dining lovers plenty of options without the crowds.

Bird watching: For avian enthusiasts, winter is one of the best times to watch birds along our coastline. Huntington Beach State Park, a short drive south of Myrtle Beach, boasts over 300 species spotted within the park, and the winter season gives watchers and photographers a rare opportunity to spot the federally endangered piping plover.
Search For Winter Rentals Now!
Why do snowbirds prefer North Myrtle Beach instead of Myrtle Beach?
There are a few different factors at play here.
North Myrtle Beach is generally less busy anyway, so there isn't any hustle and bustle during the winter.
There are plenty good North Myrtle Beach condos that have indoor pools so they don't have to sacrifice swim time during the winter.
Parking is free in North Myrtle Beach. (The downtown area in MB requires you to park at a parking meter.) You don't have to worry about meters or getting back to pump them full of quarters if you wanted to stay at an attraction or restaurant longer.
Take a look at the incredible winter deals with CondoLux, and start planning your winter migration. I think your future may be feeling a "little warmer."