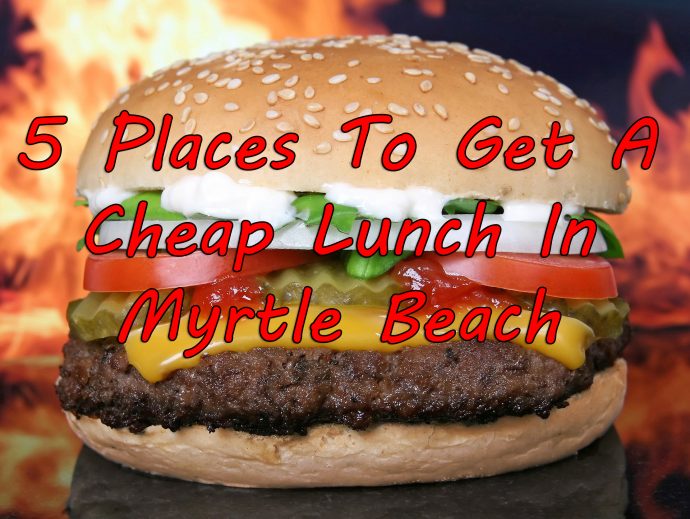 There are so many great places to eat in Myrtle Beach, that it can be hard to choose just one. Luckily, most people get to spend a few days in the area so they can try several different restaurants. When it comes to finding lunch, a lot of people prefer something fast, simple, and cheap; so they can get back to lying on the beach or enjoying area attractions. If you are looking for a cheap lunch in Myrtle Beach, check out one of these places.
Farlo's Burrito Bar
Who doesn't like Mexican food? If you want something satisfying and affordable, check out Farlo's Burrito Bar. Enjoy tacos, burritos, burrito bowls, chips, and salsa. The atmosphere is relaxing and you can dine inside or outside. It is located close to the beach so you can just walk a couple of blocks to find yourself in cheap lunch heaven.
Moe Moons
If you want something tasty and affordable but don't want to stray too far from the beach at lunchtime, check out Moe Moons. It's located on the Boardwalk and offers inside and outside dining. Enjoy items like shrimp tacos, burgers, and hotdogs. They also have a great selection of mixed drinks and beers. You can't beat the price or the location.
Little Pigs Bar-B-Q
You can't visit Myrtle Beach without trying some BBQ and you may as well do it at lunchtime. If you are looking for a satisfying lunch that will fill you up but not break your wallet, check out Little Pigs Bar-B-Q. Get a full lunch for under $10.  Sandwiches, fries,  slaw, and other southern comfort foods are sure to hit the spot after a long morning of swimming and shell hunting.
Bagel Factory
Looking for something light and cheap? The Bagel Factory has a lot to choose from. Not only do they offer a variety of bagels, but they also have a variety of different cream cheeses and spreads that you can top them with. You won't find bagels like this anywhere else. Your stomach and your budget will thank you.
Mammy's Kitchen
Looking for something simple and traditional? Mammy's Kitchen offers a late breakfast buffet that can serve as a lunch or you can order from the menu. There are sandwiches, soups, salads and of course desserts. No matter what your lunch craving is, you are sure to find it at Mammy's Kitchen. The best part is, that everything is affordable.