Myrtle Beach and North Myrtle Beach both have hundreds of restaurants to enjoy. After a long day at the beach or some fun exploring all the attractions in the area, you may find yourself looking for a tasty and affordable lunch. There are numerous options when it comes to lunch at the beach, but these five will no disappoint you when it comes to price or taste.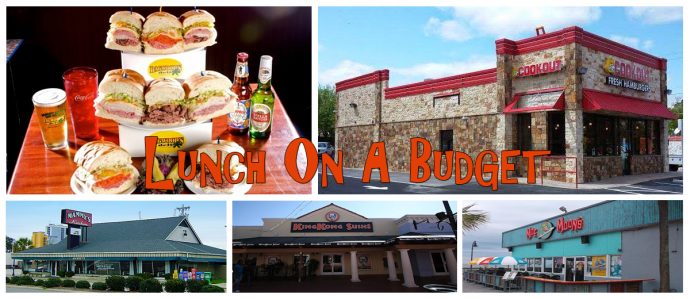 Cook Out
Cook Out is a casual dining restaurant that has a menu full of burgers, hotdogs, fries and other options. Not only is the food have great flavor, the food items are also very affordable. You can easily enjoys a meal for under $10, which makes it perfect for families or anyone vacationing on a budget.
Mammy's Kitchen
Mammy's Kitchen has a variety of menu items. If you are in the mood for affordable diner food, this is the place to be. Mammy's offers menu items ranging from fresh salads to seafood dinners. Mammy's is a tradition for my family. My parents always made it a point to eat there when I was young and now my own kids enjoy it as well.
Dagwood's Deli
Sometimes you just want a good sandwich for lunch and you can't beat the sandwich selections or the service at Dagwood's Deli. You can order something simple and small or go all out and order a larger sandwich that will keep you full until dinner. Dagwood's Deli is one of the most popular lunch spots in Myrtle Beach.
Moe Moons
Moe Moons has a great location and plenty of menu options. Whether you want a great burger, large footlong hotdog or shrimp tacos, Moe Moons has it all. Slip on a cover up and some flip flops and enjoy lunch right on the boardwalk. The price are affordable and the server's are always friendly. Moe Moon's is another one of my family's favorite lunch spots.
King Kong Sushi
In the mood for some great sushi? Head on over to King Kong Sushi and try one of their great lunch specials. You snag soup, salad and two sushi rolls for just a little over $10. King Kong Sushi is conveniently located at Broadway At The Beach so if you work up an appetite while shopping you can stop in for an affordable and delicious lunch.
These are just a few of the fabulous restaurants that offer great food and great prices for lunch. Be sure to check them out or try something new. Myrtle Beach is home to some tasty treats and no matter where you choose to eat lunch, you won't be disappointed.