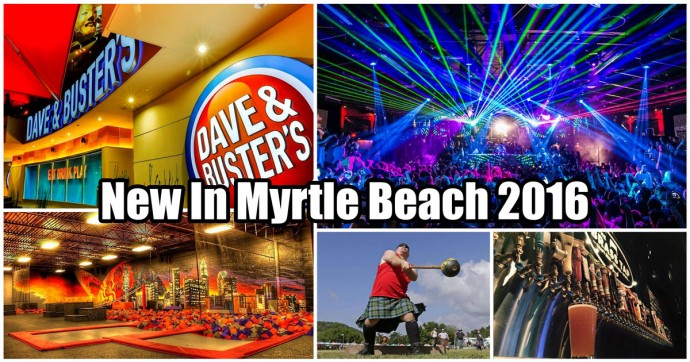 Both Myrtle Beach and North Myrtle Beach are constantly changing and growing. It seems like there is something new and exciting happening or coming to the area every year and 2016 will not disappoint. This year you will see many changes on the boardwalk and in many other popular areas of the Grand Strand. Check out all the new happening and event that will be taking place in Myrtle Beach this year.
New MB Area Attractions
North Myrtle Beach and Myrtle Beach are all about attractions and making sure visitors have plenty of fun things to do. Here's what new attractions are coming in 2016:
High Flyer – High Flyer is a new trampoline park that will feature a 20,000-square foot facility full of trampolines. Kids can jump and bounce all day and even dive into large piles of foam block. The attraction will also serve as a venue for birthday parties and special events and is a totally new attraction for Myrtle Beach.
Fun Warehouse – The Fun Warehouse has been in Surfside Beach for many years, but it is getting some awesome updates for 2016. It will add a new mini golf course and a multi-level go-kart track.
Dave And Busters – Dave And Busters will be coming to Myrtle Beach this spring. This will be the first Dave and Busters in the area. It will offer food and games for both kids and adults as well as a bar.
Ocean Lakes Campground Waterpark – Ocean Lakes Campground is one of the most popular camping areas in Myrtle Beach. They are adding a waterpark to their many on-site amenities this year and construction should be complete by spring.
Oz Night Club – The night club will be opening in Celebrity Square and promises to bring a new experience unlike any other on the Grand Strand with something different happening every night.
More Restaurants to the Strand
Myrtle Beach and North Myrtle Beach have some great restaurants and there seems to always be room for more. This year there are numerous new restaurants opening up in these areas including:
Popeye's
The Claw House
Panera Bread
The Brass Tap
Mission Barbeque
Paula Dean's Restaurant
MOD Pizza: Opening three locations throughout the Grand Strand in 2016
The Culinary Institute of Myrtle Beach
American Tap House
Hard Rock Café – Relocating To New Location At Broadway At The Beach
New Fun Events for 2016
There is always something fun happening at the beach and there are plenty of events scheduled for 2016. Aside from the usual, some of the news one include:
Myrtle Beach Highland Games & Heritage Festival – This event is scheduled for March 19, 2016 and will feature athletic competitions, a clan village, a Celtic marketplace, Scottish whiskey tastings, Ripley's Kid's Glen, amateur adult contests, live music & entertainment and plenty of other fun and unique events.
California Roots –  This Reggae festival was scheduled to take place last year but was rained out. It will be held on April 9, 2016.
Menopause the Musical – This funny hit musical will be have several shows at Legends in Concert throughout the year.
2016 is going to be a great year in North Myrtle Beach and Myrtle Beach. Whether you have never visited before or are a regular, you will want to check out some of these new happenings at the beach. There will likely be more as the year goes on, so don't forget to check back for more fun!