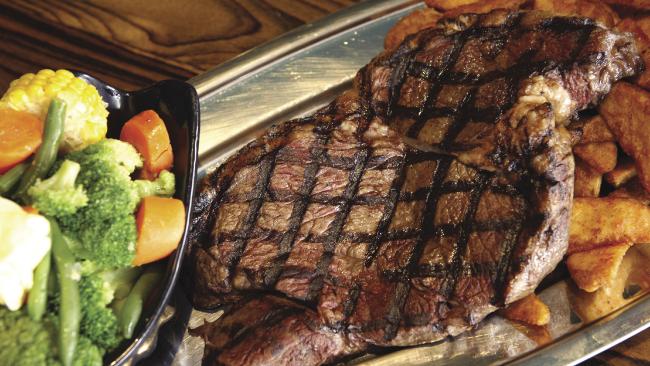 Do you love to eat? Luckily, Myrtle Beach has plenty of opportunities to eat and if you have a really big appetite, you may even want to participate in a food challenge.  There are several restaurants in the Myrtle Beach area that have offer up large amounts of food and challenge guests to eat it all. Those who are able to conquer these mammoth dishes can eat free or take home a nice souvenir. Think you have what it takes? Try one of these five fun food challenges.
Peaches Corner
Who doesn't love a great burger? Peaches Corner serves up some of the best and had been doing so for decades. If you brought your appetite with you to the beach and are in the mood for some fun,  why not take on the Peaches Challenge? The challenge requires participants to eat an entire Double-Stacker (double/double cheeseburger with lettuce, tomato and mayo), one foot-long hot dog with mustard, chili, onions and slaw, one large order of chili cheese fries and one extra thick peach milkshake.  Everything must be finished within 20 minutes and you don't even need to call ahead for the challenge. If you complete the challenge in the allotted time, you will get your money back, your picture will be taken and placed in the restaurant and on our Facebook page, and you will receive a special t-shirt. The cost to take on the Peaches Challenge is $20.
Fox's Pizza Den
The Big One Challenge is available at Fox's Pizza Den and is great for anyone who loves pizza, a lot of pizza. The challenge requires the participant to eat a 30" pizza that is cut into 52 square pizzas. It amounts to over 5 feet of pizza. Up to 3 people can team up for the challenge and those who conquer it win a free t-shirt, a $10 gift certificate and their picture hung on the wall of fame at the restaurant. Losers have get their photos hung on the wall of shame instead. Those interested in this challenge should call ahead to order.
Thorny's Steakhouse & Saloon
Are you a steak lover? If so, the Thorny's Challenge may be right for you. To beat it you need to eat eighty ounces of sirloin beef plus a baked potato, roll and salad in 60 minutes. If you complete the challenge you get the meal for free and bragging rights. If not, you have to pay $70 for the meal.
O.D. Pavilion Ice Cream Shop
Ice cream is a great treat to enjoy at the beach, but if you can't seem to get enough, the Waterdog Challenge might be what you need. Participants must eat 7 scoops of ice cream with 5 toppings and a waffle plate in only 5 minutes.  Those who complete the challenge take home a t-shirt and a souvenir plate.