If you are visiting North Myrtle Beach or Myrtle Beach and are ready to try some new foods, you are in luck. The Myrtle Beach area has numerous ethnic restaurants that are all delicious and offer a unique dining experience. If you are feeling adventurous on your next vacation, try one of these International restaurants.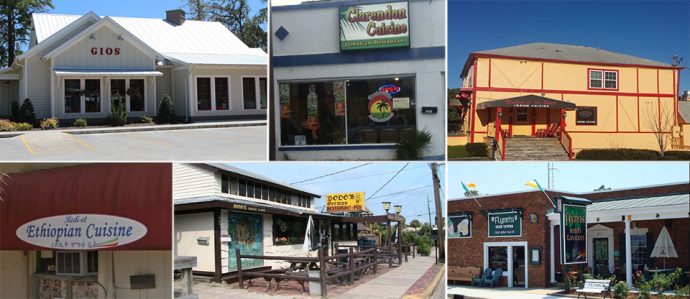 Redi-Et Ethiopian Cuisine
Redi-Et Ethiopian Cuisine  is located in downtown Myrtle Beach and will allow you to sample some classic Ethiopian recipes.  Some of the most popular menu items include Doro Wat (chicken), Ye Beg Wat (lamb), Kei Wat (Beef) and vegetable dishes such as  Shiro (seasoned and sun dried peas), Atkilt (a variety vegetables), Misir kik (lentils), and Ater Kik (split peas). Prices are affordable and the atmosphere is laidback and casual.
Bombay At The Beach
Interested in trying Indian food? You can get your fill at Bombay At The Beach. You can try a traditional curry dish or opt for soup or a salad. There are plenty of recipes and dishes to choose from and you can count on getting a real taste of India.  The restaurant is located just a few blocks away from the ocean so you can drop in for lunch or dinner.
Gio's Italian Kitchen
Who can pass up a classic Italian meal? Gio's Italian Kitchen serves pasta dishes, salads, and pizzas and uses only the freshest ingredients. Gino's offers a comfortable dining room and Happy Hour specials, Monday thru Friday, 4:30 pm – 6:30 pm.  If you want to experience real Italian dining in the Myrtle Beach area, stop by Gio's Italian Kitchen.
Clarendon Cuisine
Every tried Jamaican food? Stop in at Clarendon Cuisine and try some classic Jamaican dishes such as Jerk Chicken, Brown Stew Chicken, Curry Rice, Curry Goat and Oxtail as well as sides like brown rice, steamed vegetables and fried plantains. Clarendon Cuisine is located on Kings Highway in downtown Myrtle Beach and offers a dining room or delivery to your condo or hotel room.
Bodo's German Restaurant & Pub
Bodo's German Restaurant & Pub serves traditional German comfort foods that will really hit the spot after a day at the beach.  Enjoy bratwurst, schnitzel, kraut and red cabbage just blocks away from the beach and popular attractions. Don't forget to check out the large assortment of beers.
Flynn's Irish Tavern
Flynn's Irish Tavern serves up hearty and satisfying Irish meals. Flynn's offers a full dining room as well as a fully licensed bar which offers 46 varieties of Irish whiskey. Try some potato soup, corned beef or bread pudding from a traditional Irish tavern.