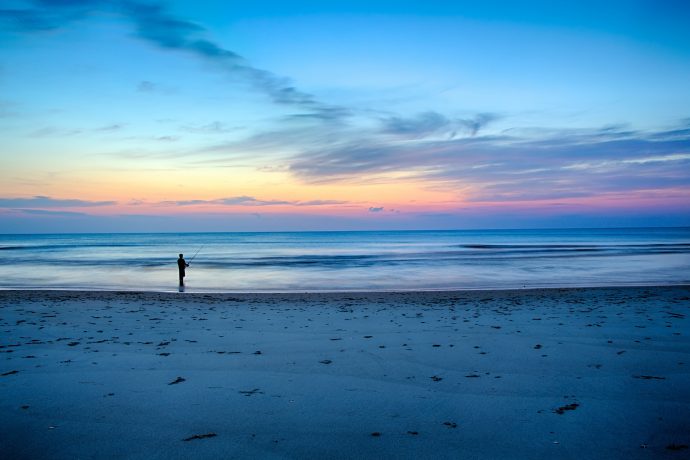 Heritage Nature Preserve
The Heritage Nature Preserve is located in Cherry Grove in North Myrtle Beach. It is free to walk and is great place to observe the wildlife that live along the marsh. You can see animals such as egrets, squirrels, pelicans, fiddler crabs and even dolphins while walking through the preserve. Keep an eye on the tide charts as you may find some trails are underwater during high tide.
Barefoot Landing
Barefoot Landing is a popular place to visit and there is plenty to do that won't cost a thing. Enjoy window shopping, try out some fudge samples, feed the fish or ducks from the boardwalk. You can walk around and people watch for free too. There is also a lot of free entertainment including performances by area bands and artists. You won't get bored or go broke at Barefoot Landing.
Fishing
As long as you have a South Carolina fishing license, you can fish for free in many places in North Myrtle Beach. Enjoy the day fishing from one of the piers or try your luck on the marsh or inlet. You can find bait at many locations as well as other supplies. Fishing is great for people of all ages and there is no better way to spend a day in North Myrtle Beach.
Live Entertainment
There are plenty of free summer concerts being offered in North Myrtle Beach. The free concerts run from June 16 to September 15 and are held at McLean Park. Bring your own chair and refreshments and enjoy free, live music just steps away from the ocean. The concerts are great for people of all ages and McLean Park offers many playgrounds so kids can have fun too.
Beach
It's not secret that the beach is the best and cheapest thing to do in North Myrtle Beach. Did you know that there are many areas in North Myrtle Beach that also offer free public parking. Not all beaches offer this luxury and in some parts of Myrtle Beach you have to pay to park or walk several blocks. In North Myrtle Beach you can park close to the beach which means less walking time and less of a struggle hauling all of your belongings down. There's plenty to enjoy on the beach from swimming, tanning, sightseeing and just about anything else you can think of. Rest in a beach chair, jump the waves or pass the football in the sand.