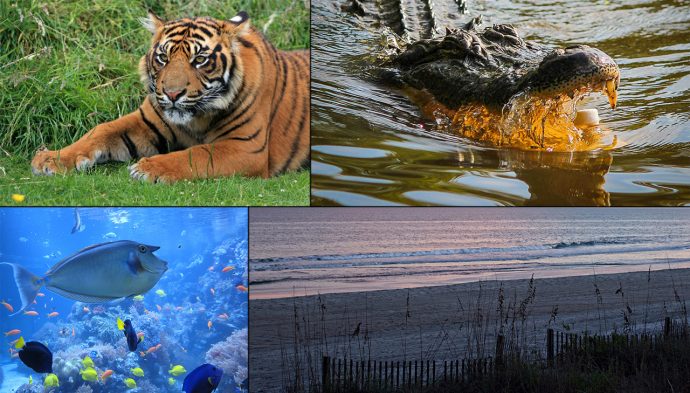 Myrtle Beach has an abundance of amazing wildlife and if you don't know where to look, you may not get to enjoy it.  You can find wildlife at area attraction or by searching for it in it natural habitat. If you love animals and want to observe and interact with some during your visit to Myrtle Beach check out these top 5 places to spot it in the area.
Alligator Adventure
Alligator Adventure is a great place to see many different species of gator and other creatures. Be sure to watch a feeding so you can see just how powerful and magnificent these animals really are. Other animals at Alligator Adventure include gray wolves, rare snakes, kangaroos, and crocodiles. It's affordable fun for the entire family.
Marsh Walk
If you want to get close to nature and enjoy some amazing views, head down to the Murrells Inlet Marsh Walk. You can see fish, bird, crabs and even goats. Take a boat ride to get closer to these creatures or sip some mixed drinks and watch as them move around the marsh. There are plenty of restaurants, shops and bar in the area too so after a day of observing wildlife, you can kick back and unwind.
T.I.G.E.R.S.
Every wanted to get up close and personal with a big cat? T.I.G.E.R.S. is the place to do it. They offer amazing animal encounters that you can' experience anywhere else. You can also see elephants, monkeys, exotic birds and reptiles. You will want to spend the entire day at this location and it's perfect for animal lovers of all ages.
Huntington Beach State Park
Sometimes the best place to enjoy wildlife is on the beach. Huntington Beach State Park is the place to see plenty of squirrels, fish, birds, turtles,  insects and beautiful plants.  It was recently registered by the South Carolina Heritage Trust Program to help preserve its nature. Have a picnic and enjoy the sites and sounds of nature on the beach.
Ripley's Aquarium
Interested in seeing some unique fish and interesting creatures? Ripley's Aquarium is where you want to be. They have tank after tank of unique fish and there is also a shark tunnel. You never know what you might find at Ripley's, but you can count on being entertained and impressed. Spend the afternoon and then have dinner at one of the many restaurants nearby.