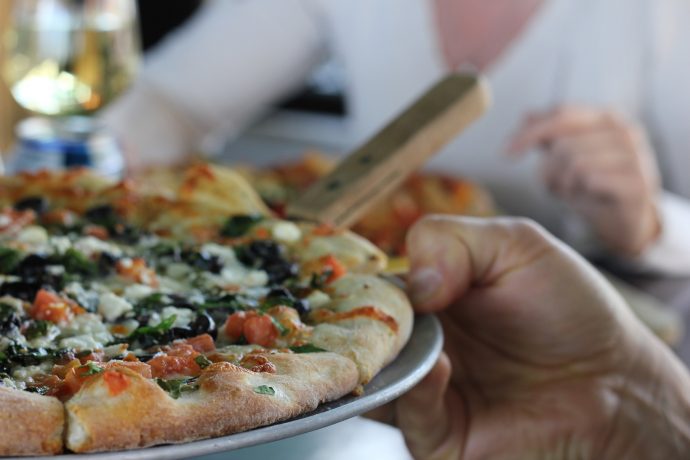 If you decide to visit Cherry Grove while in North Myrtle Beach you are in luck because it's close to many restaurants and stores. Sometimes when you are relaxing on vacation you just want to enjoy a pizza in your room, on the beach or at a nearby pizzeria. There are several to choose from in the Cherry Grove area of North Myrtle Beach, and here are the top 5.
Basil's Pizza
Basil's Pizza is just a short walk or golf cart ride away from many beach houses and it offers some tasty pizza and other menu items. Enjoy your pizza there or take it with you. Aside from pizza they also have lasagna, subs, strombolis, calzones, and many types of pasta. You won't go home hungry and prices are reasonable too.
Babaka's Pizza
Babaka's Pizza is a favorite among tourists and locals alike. It has cheesy pizza with plenty of toppings as well as wings, salads and other Italian favorites. There is a small dining room if you choose to enjoy your pizza on location or you can always take it down to the beach and watch the waves while you enjoy lunch. Easily within walking distance from most condos and beach houses in Cherry Grove and only a short drive from other North Myrtle Beach locations.
Mellow Mushroom
The Mellow Mushroom has a great pizza selection, and a fun atmosphere and it's close to the Cherry Grove area. Try some unique pizza topping combinations that you can't get anywhere else. They also have burgers, sides, wings, and plenty of drink options. Once you try it, it will be one of your favorite places to eat.
Georgio's Famous Pizza
If you want to be able to sit down and enjoy a great pizza with your family, Georgio's is the place to do it. Simple and tasty food such as subs, salads, pasta and a variety of drinks. You just can't beat the fresh toppings or the homemade crust. It's sure to hit the spot and give you the energy you need to enjoy your vacation the right way. There's also plenty of seating so you can enjoy pizza even during the peak season.
Gino's NY Style Pizzeria
If you love NY Style Pizza and want one of the best on the beach, check out Gino's NY Style Pizzeria. It's cheesy and sliced just right, the perfect beach lunch or dinner. They also have amazing subs, pinwheels, calzones, pasta, salad and customer service. You don't have to travel too far south to get a great pizza, you can visit Gino's NY Style Pizzeria in North Myrtle Beach.