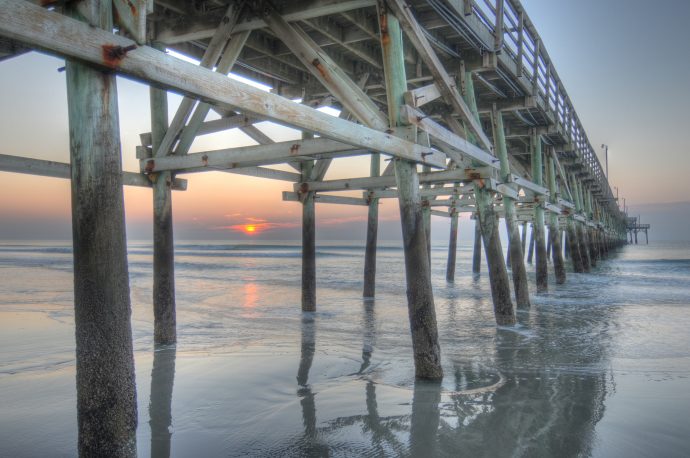 Cherry Grove has recently voted the best beach in South Carolina and for good reason. Cherry Grove and the surrounding North Myrtle Beach beaches have some amazing views, warm, sand, beautiful waves, plenty of attractions and delicious eateries. You can find everything you want in a beach vacation right in North Myrtle Beach. If you haven't been to one of these top beaches in South Carolina, you are missing out. Here's what you can expect.
Cherry Grove
Cherry Grove runs all the way to the Hog Inlet and is a quiet area of North Myrtle Beach where you can bring the whole family. There are plenty of condos and resorts on the beach and across the street, and many beaches houses that sit on the inlet. You can fish off your own personal boat dock or grab a kayak or paddleboard and explore the inlet.
Bolineaus store is right on main street and has everything you might need for your vacation including food, fishing supplies, souvenirs and more.  There is a nature preserve nearby, a bike shop, piers, ice cream shops, a variety of restaurants all within walking distance from most condos. Cherry Grove is also close to Barefoot Landing, Restaurant Row, North Myrtle Beach Sports Complex, and the La Belle Amie Winery.
Crescent Beach
Crescent Beach is a quiet beach with a lot to offer. The beaches are clean and beautiful and there are plenty of attractions and eateries nearby. You are just a short drive away from The Dean's List Surf School, Salt Shaker Boat Tours, Barefoot Landing, and Myrtle Beach Watersports.
Ocean Drive Beach
Ocean Drive Beach is a great place for families, especially families with children. The Ocean Drive Pavilion is right in the center of Ocean Drive and features a variety of carnival-style rides and games. There is also an ice cream shop, souvenir shops and plenty of restaurants. Ocean Drive is where the shag started and many of the bars and eateries offer free shag lessons.
Ocean Drive Beach is close to the Alabama Theater, Pirate's Voyage, The Tilghman Beach & Racquet Club and many other area attractions. The downtown feel of it is charming and it's full of plenty of opportunities to make amazing vacation memories.
North Myrtle Beach
North Myrtle Beach is known for its safe and clean beaches. It's nearly all of the popular attractions including Barefoot Landing, Broadway At The Beach and even the downtown Myrtle Beach area. It hosts numerous festival and concerts throughout the year and is a great place for families.
The condos are situated on and across from the beach and there are some tasty restaurants and unique boutiques nearby.  Take the family zip lining, horseback riding, or just spend the day playing in the sand and the waves. At night, walk the streets and window shop or grab an ice cream cone and enjoy a walk along the beach.