The travel world's latest buzzword is the cringe-worthy "man-cation," a vacation getaway just for the guys. From a marketing standpoint, it makes sense. The "girls getaway" weekend has been advertised and marketed by resorts and spas for as long as I can remember. Perhaps guys have felt left out. The result is the new trend of selling "male bonding" vacations for groups of guys. If you think about it, it's a bachelor party without the wedding. What's not to love?
The Myrtle Beach area is the perfect place for a guys getaway. We've got an abundance of excellent golf courses, fantastic restaurants, large, sandy beaches, and nightlife. Moreover, it's an awesome place to have a great time without breaking the bank. So, we've come up with a list of great things men can do around Myrtle Beach.
To help you out with planning your "man-cation," here's are a few suggestions.
Condos You Should Stay At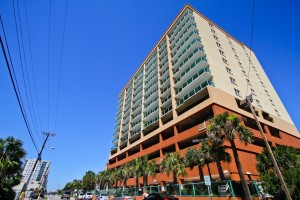 Malibu Pointe
The least expensive of our condo selection, but still has the amenities you are after. Located across the street from the ocean (hence the lower price tag), Malibu Pointe has a lazy river, hot tub, and outdoor pool, all perfect for the guys. These amenities are located under the building so you can escape the heat from the sun during your lounging days.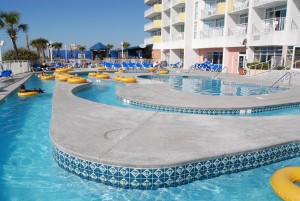 Baywatch Resort
It has a poolside bar on site, need we say more? You can also enjoy the onsite restaurant at Baywatch as well. Round that out with a large pool complex with hot tubs and lazy rivers, and you are set.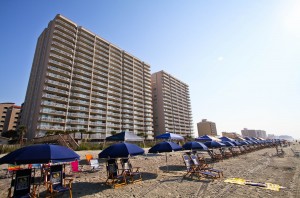 Crescent Shores
Another large complex with a huge oceanfront pool to relax in. The rooms at Crescent Shores are spacious as well. But it's also next store to Molly Darcy's Irish Pub & Grill, which has an oceanfront deck for you to enjoy. Excellent nightlife there.
Attractions to Keep Ya Entertained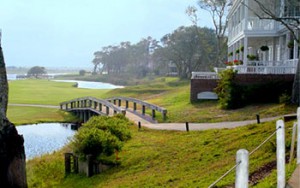 Awesome Golf
Regardless of your skill level, the Grand Strand has a course that is right for you. From premier TPC courses, to pitch and putt par 3s, there is something in the area to fit your ability and budget. CondoLux can even custom build a golf package for you at a variety of local courses to ensure new challenges each day you decide to hit the links.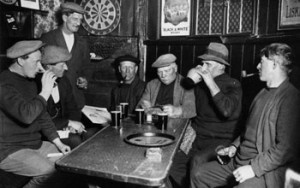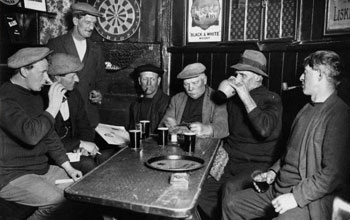 Nightlife (Party Time)
Broadway at the Beach is the best destination for hitting up some clubs and bars with your buddies. Not only is this restaurant/ nightclub/ shopping/ entertainment area centrally located, but it also allows visitors to hop easily from one night spot to the next. Celebrity Square at Broadway at the Beach offers up live music nightly, and the variety of clubs and bars make it easy to find the perfect spot to hang, whether you want loud, live music, or a quiet cigar bar.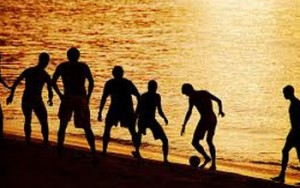 Daaaaa Beach
This is a no-brainer. For most, our long strand of coastline is the main draw. Grab some chairs and pack a cooler (cans, not bottles) and just relax and hang out. For the more active types, I recommend trying stand-up paddleboarding, which you can rent from almost any local surf shop in the area.
Grub Grub and More Grub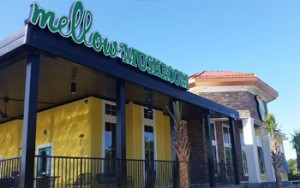 Mellow Mushroom
Mellow Mushroom – North Myrtle Beach – Pizza and beer is a guys getaway staple. With specialty pizzas like the "Kosmic Karma" or the cesaer salad-topped pie, this isn't your standard pizza and beer joint. While the pizza is one of my favorites, the real draw is the insanely comprehensive beer list. Whether you are a beer snob in search of the hand-crafted and unique, or whether you just want the Bud Lights to keep coming, this is a great place that is known locally for having an exceptional beer list.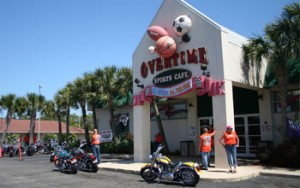 Overtime Sports Cafe
Overtime Sports Cafe –  North Myrtle Beach – This place is amazing.  Huge layout inside with loads of "guy things" to look at on the walls, hanging from ceilings. Get the Mile High Nachos for the app.  True guy food exists here, and of course, TVs with all the games you need to follow while on vacation.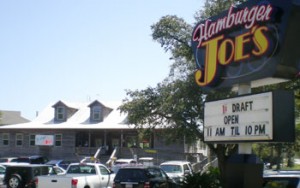 Hamburger Joes
Hamburger Joe's  – North Myrtle Beach –  This is cheap, but good. The menu is basic (burgers and fries, wings, etc), but sometimes I get a craving for the burgers of my youth, before they got all fancy and expensive: thin patties, American cheese, soft, white bun. It's hard to mess with perfection. Plus, where else can you get a beer for a dollar? (They only take cash though, be warned.)
Do you have a favorite guys trip spot? Let us know in the comments so we can add it to our next list.