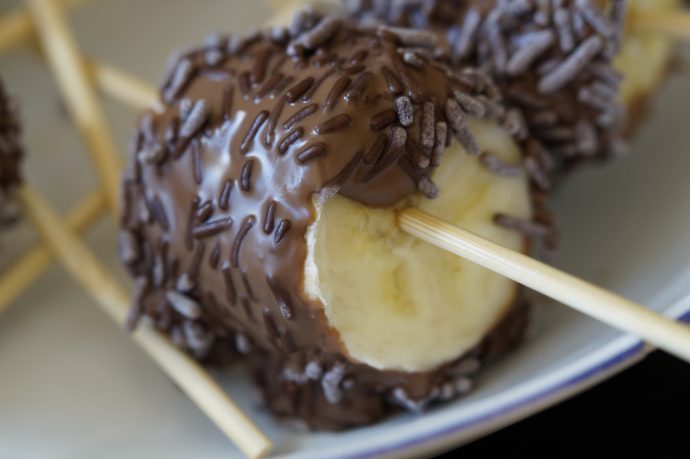 Who doesn't love spending the day on the beach? There is only one problem, you can get really hungry playing in the sun and water all day. It's hard to decide between leaving so you can get some food, or staying to make the most of the great weather. These 5 simple snacks are great for the beach and they are easy enough to fix in your condo, even if you don't have a full kitchen.
Frozen Chocolate Bananas
These treats are tastier and healthier than ice cream. Simply melt some chocolate chips in a bowl, slide a popsicle stick up a peeled banana, dip the banana in the chocolate and freeze it in the freezer for several minutes or until the chocolate hardens. Wrap them in plastic and put them in your cooler under some ice. They are delicious, portable and refreshing.
Olive Spread
You can buy olive spread in the door or make your own for a fraction of the cost. In a small food processor, add green olives, black olives, mushrooms, red onions, olive oil, and garlic. Once they have been minced, add them to a container and refrigerator. You can eat it on bread, dip crackers or chips in it, or just eat it plain.
Fruit Kebobs
Choose a few types of your favorite fruit and gut them into equally sized pieces. Slide the pieces onto wooden skews to make the kebabs. Eat them with yogurt or as they are. These are also portable and easy to store in a cooler or picnic basket. Kids love them and they are healthy.
Veggie Cups
Veggies aren't exactly portable, but you can fix that. Pour some of your favorite dressing or dip in the bottom of a plastic cup. Add some baby carrots, celery sticks and any other vegetables that can fit into the cup easily. Put a lid on the cups and stick them in your cooler or beach bag.
Sandwich Roll-Ups
Sandwiches are great for snacking, but they can easily get smashed. Instead, but your favorite sandwich meats and cheeses in tortillas, roll them up and cut them into small bite size pieces. Now they can fit into plastic containers and are less likely to get smashed when you haul them to the beach.