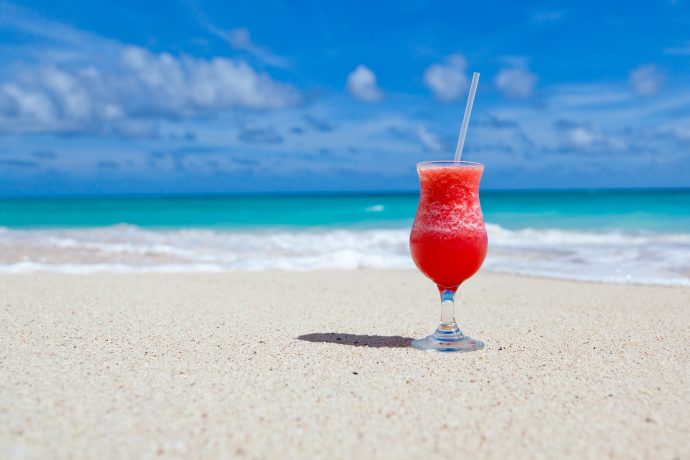 North Myrtle Beach has some great bars where you can find some amazing drinks. Sometimes, you just want to take it easy and spend the day or night in your condo. Here are three tasty cocktails that you can make in the kitchen of your condo and enjoy on your balcony while you watch the waves crash on the beach. Can it get any better?
Blueberry Ginger Mojitos
Fruity drinks are a must for the beach and a Blueberry Ginger Mojito will surely hit the spot on a hot summer day.  Here's how to make a pitcher.
Ingredients:
1/4 cup grated fresh ginger
1 cup granulated sugar
1 cup cold water
1 cup fresh blueberries
1 lime, cut into wedges
20 to 24 fresh mint leaves
4 ounces ginger simple syrup
4 ounces vodka
5 ounces club soda
Ice cubes
Blueberries, for garnish
Mint leaves, for garnish
Directions:
Step 1: Peel and grate the ginger and add it, together with the sugar and cold water, to a saucepan.
Step 2: Bring it to a boil and then strain it.  Set the syrup aside.
Step 3:  Add blueberries, lime, mint, vodka and soda to a pitcher.
Step 4: Fill the pitcher with ice.
Step 5: Add the ginger syrup to the pitcher before serving.
Jungle Juice
You probably remember jungle juice from your college days, but this drink can easily be turned into a cocktail that is perfect for sipping from your North Myrtle Beach condo balcony. What's better than fruit and alcohol on the beach? Here's how to make it.
Ingredients:
Hawaiian Punch
Sprite
Rum
Tequila
Fruit Of Your Choice
Step 1: Cut up all the fruit into bite size pieces. You can use whatever fruit you prefer. Watermelon, grapes, strawberries, pineapple, lemon, and limes work great together.
Step 2: Put the fruit into a large pitcher or container. Add half the bottle of rum and half the bottle of tequila and let it soak overnight or for at least a few hours.
Step 3: Add some Hawaiian Punch and Sprite to fill up the pitcher.
Step 4: Serve over ice.
Pineapple Daiquiris
There's something about a pineapple drink that just makes you feel like you are on vacation. You can make these pineapple daiquiris right in your condo and enjoy them while taking in a great beach view. Here's how to make them.
Ingredients:
Frozen Pineapple
Fresh Pineapple
Pineapple Rum
Ice
Step 1: Add 2 cups of frozen pineapple and 2 cups of fresh pineapple to a blender and combine.
Step  2: Add a cup of ice to the blender.
Step 3:  Add 4 ounces of the pineapple rum to the blender.
Step 4: Blend all the ingredients together until combined.
Step 5: Serve immediately and enjoy.