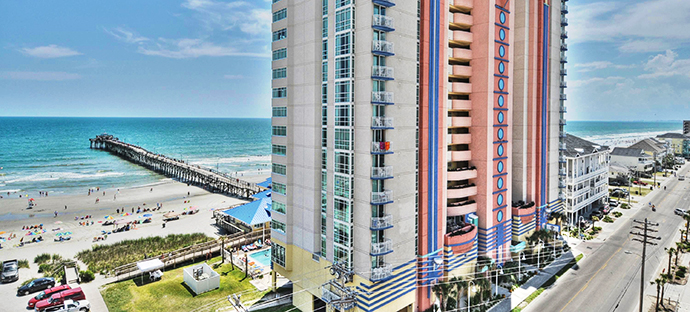 Prince Resort
You are here:

Prince Resort
Prince Resort is located in the Cherry Grove section of N. Myrtle, just North of Sea Mountain Highway. Loved for its panoramic views of not only the Atlantic Ocean and coastline, but the stunning channel and marsh views as well. Loaded with amenities, Prince Resort is well-equipped to please vacation groups of all sizes and ages.
Located directly on the extremely popular Cherry Grove Pier, "The Prince" has an on-site restaurant and bar, as well as enough outdoors amenities to keep the kids happy for months. What you'll love most about this facility is the phenomenal oceanfront views some of the condos have to offer. Dependant on which unit you book, you can choose between never ending views of the ocean, or the naturalistic setting of the Cherry Grove Marsh.
Search our Condo Rentals
1 BR Oceanview
2 BR Oceanview
3 BR Oceanview
4 BR Oceanview
1 BR Oceanfront
2 BR Oceanfront
3 BR Oceanfront
4 BR Oceanfront
What you'll love about Prince Resort
Affordable rental rates and upgraded units. Avoid the high prices of booking through the hotel by renting directly from us. We're proud to offer our guests the most competitive pricing on accommodations without sacrificing quality.
Multiple oceanfront pools and jacuzzis. Prince Resort has 2 outdoor pools that are located directly on the beachfront. There is a kiddie pool with mushroom fountain for the little ones as well as a full-sized pool for everyone else. Nothing beats coming cooling off by taking a quick dip in the pool after a long day at the beach.
The on-site restaurant and bar. Looking for all of the conveniences of home while trying to avoid the long lines and large bills when eating out? Prince Resort has a great on-site restaurant (3500 Ocean Grill) located directly within Tower I (oceanfront). Enjoy views of the Atlantic Ocean while enjoying a relaxing dinner with family and friends.
Jaw-dropping balcony views. If you're for an experience that includes some of the best views that North Myrtle Beach has to offer than look no further than the Prince. Our oceanfront condos give our guests direct access to stunning views of the pier and the coastline from as high as 16 stories up.
Amenities at a Glance
Oceanfront Pool Area
Kiddie Pool w/ Mushroom Fountain
2 Hot Tubs
Tiki Bar by the Pool Area
Directly In Front Of Cherry Grove Pier
Onsite Restaurant & Bar
All on-site amenties, including pools, fitness room, parking garage and elevators are maintained by Ally Management.
Additional Photos of Prince Resort in Cherry Grove
Mapped Location & Nearby Things to Do
Prince Resort
Oceanfront Hotel in N. Myrtle Beach
3500 N Ocean Blvd
,
North Myrtle Beach
,
SC
29582
Reviews of the Resort from CondoLux Guests
Total Rating of
Prince Resort
:
4

palm fronds - based on

7

reviews
Very wonderful stay, we have stayed with you at Prince Resort the past 5 years. Hope to return next year and book thru CondoLux. We really like that area. Thank you, keep up the good work.
5/ 5 fronds Wesley Kelly
We had a great time. We love the unit that we stay in. That was our 3rd time in that rental.
5/ 5 fronds Tammy Emery
We had a great time. Check-in was easy and efficient despite the long line. CondoLux staff was pleasant and courteous. Finding a place to park and getting our things to the condo was not so pleasant. There were only a few carts amongst 100 or so people trying to move in at the same time. The pools were always so crowded that you couldn't find a place to sit so we spent our time on the beach. I doubt that I will stay at The Prince Resort again. However, these are not CondoLux problems. I will find something a little more suitable for us next year. Hopefully, CondoLux will have what we are looking for.
3/ 5 fronds Melaney Conklin
Very wonderful stay, we have stayed with you at Prince Resort the past 5 years. Hope to return next year and book thru CondoLux. We really like that area. Thank you, keep up the good work.
5/ 5 fronds Wesley Kelly
CondoLux was extremely accommodating when we had difficulties with the unit we rented. They went out of their way to help us and were wonderfully dependable and responsible.
3/ 5 fronds Patti McGhie
Beautiful view nice section. Beach was very nice and the pier was well kept and clean. The restaurant in the Prince Tower was a nice surprise. The food was good and the service was excellent. A young lady (Twala) was an excellent attendant. Nice personality, clean, efficient and such a sweet personality.
3/ 5 fronds Anna Taylor
Our stay was wonderful. We have stayed in the same unit two other times. This year some of the furniture had begun to show some wear and tear. Overall, we enjoyed our stay and the view is spectacular!
4/ 5 fronds Danny/Vicky Feeback
Frequently Asked Questions about 'The Prince'
Do I have access to the Pier?
Answer
Of course! But you receive no special treatment. The pier is not owned by Prince Resort, it just so happens to be right in front of it. You will still have to pay the $2 fee per person to access the Cherry Grove Pier. (It's worth it though!) Find more info on the
pier's website
.
What is the parking situation at Prince?
Answer
Most of the condos in North Myrtle Beach have parking garages on the first 1-5 floors of the high-rise. However, Prince Resort has a dedicated parking garage across the street! So yes, you will have to cross the street after you park in order to get to your condo. To visualize this, check out the
Google street view map
.
Rental Policies & Procedures
Please read our
Policies and Procedures
or
Rental FAQs
regarding our rentals before calling. Many of your questions can be answered on that page. Here you will find information about refunds, cancellations, reservations, check-ins and much more.