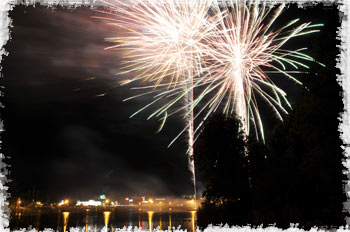 July 4th is a favorite time for people to book their Myrtle Beach vacations. It's a great way to enjoy the summer at the beach, and with all the local holiday events, it's no wonder tourists from all around choose to make the Grand Strand their Fourth of July destination.
There will be July 4th celebrations all up and down the coast this year. Broadway at the Beach will have face painting, patriotic music and fireworks from July 2 to July 4. Market Common will have music, children's activities, and fireworks from 4:30 pm to 7:30 pm on July 4. Surfside Beach will be having live music, moon bounce, concessions, and a fireworks display at Surfside Pier from 6:00 pm to 10:00 pm. Head to the Murrell's Inlet Marshwalk area at 5:00 pm for the 26th Annual July 4th Boat Parade.
There's been a lot of new attractions added since last summer! Now is the perfect time to try out the brand new waterslide on second avenue in North Myrtle Beach, or head down to Myrtle Beach to see the new Market Common shopping complex. Freestyle Music Park, at the site of the old Hard Rock Amusement Park, is also open for business with a rollercoaster and lots of amusement rides.
There are several area movie theaters for those who like to enjoy a movie during the holiday. Myrtle Beach Mall (aka Colonial Mall) in North Myrtle Beach, Coastal Grande Mall, Broadway at the Beach, and the new Market Common all have great theaters. Right now, there's a movie out for everyone. This summer's Star Trek movie is still in theaters and has been getting rave reviews. There's also Disney/Pixar's Up for the kids, Terminator and Transformers for action fans, the comedies Hangover and Away We Go, the tearjerker My Sister's Keeper, and the horror thriller Drag Me To Hell.
Finish it all off with a live show at the Palace Theatre, go shopping at Tanger Outlets, or finish off a round of golf at one of our championship courses. Enjoy your holiday at Myrtle Beach!