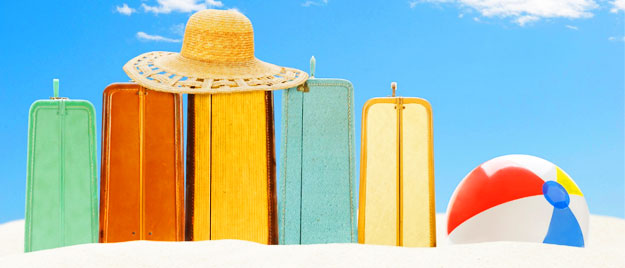 [space height="20″]
One of the hardest parts of living in a seaside vacation destination town like Myrtle Beach is seeing everyone else in a perpetual vacation-state. I'm driving to work while everyone else is headed in the opposite direct with surfboards and beach chairs in tow. And I know that I'm not alone.
A couple of weeks ago I was chatting with a friend at the office about a part of social media we both secretly despise: seeing dozens and dozens of friends' vacation photos. Sure, I'm thrilled you are enjoying doing absolutely nothing except drinking a margarita with your toes in the sand and a book in your hand, but it sure seems like someone is always on vacation and it is rarely me. I know it's just jealousy, but it leads to a feeling that I'm being deprived of something I deserve to have more of.
A recent survey was recently forwarded to me to give support to my vacation-deprived notions. Travel website Expedia.com recently polled more than 8,500 working adults on 24 countries about their vacation and travel habits. The results show that Americans, on average, take significantly fewer vacation days than allowed. According to the report, the average American respondent was allowed 14 days per year but only used 10 of those. Good Morning America, who reported the Expedia study, extrapolates that data:
With approximately 144 million Americans currently employed, that means collectively more than 500 million available days of vacation were not taken.
Why do we do this to ourselves? Sure, we all feel like we "can't get away" from the piles of work, and there is certainly always a better time to take a vacation; but as VP of Expedia rightly proclaims in response, "No one retires wishing they'd spent more time at their desk." And if you are worried about how a vacation might set you back at the office, consider the point that rested employees are typically happier and more productive, so your much needed vacation can actually benefit your career.
After reading the Expedia survey, it didn't take very long before I started fantasizing about my own much needed vacation. In fact, mine can be fairly simple and low-key. A kid-free weekend (thanks, grandparents!) at a beachfront condo and reservations for dinner for two? Vacation can be short, simple and sweet if you want (or need) it to be.
In fact, CondoLux makes it easy to plan short, affordable vacations in the Myrtle Beach and North Myrtle Beach areas. It's easy to browse for the perfect rental property, explore events and activities in the area, and find the best deals on golf packages, all right from the CondoLux website. The Myrtle Beach area is an extremely affordable vacation destination with an abundance of restaurants, shopping, outdoor sports and entertainment all within a short drive.
When family and friends visit us from out of town, I often feel like I am on vacation as well: dining on seafood, walking the beach, visiting my favorite state parks, and even doing some shopping at Market Common or Broadway at the Beach. But then I have wake up early to go to work while everyone else puts the surfboards on the car and drives the other way.