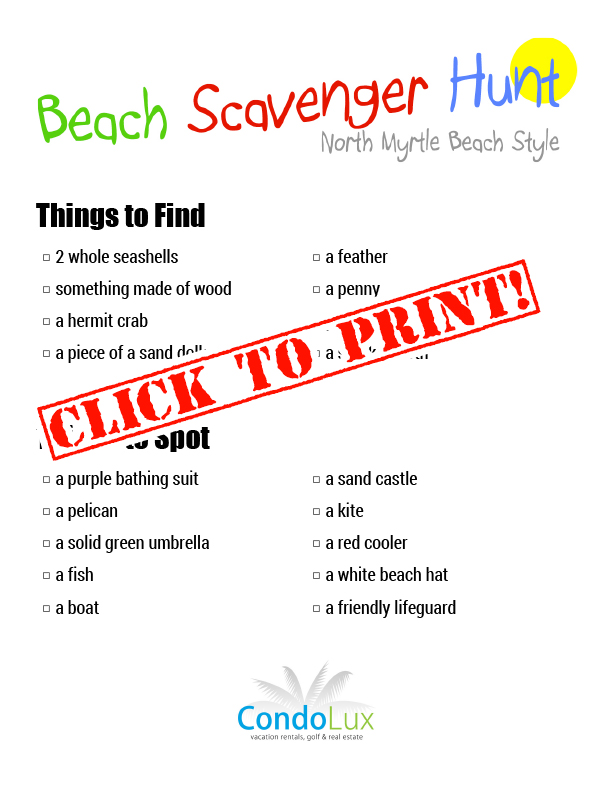 Children are natural-born explorers. Put them in a new place and watch them move about finding bugs, sticks, rocks, or, God forbid, pieces of trash to use in elaborate gameplay. When I was a child, I loved scavenger hunt games. They rewarded exploration, teamwork, and attention to detail.
What better place to stage a scavenger hunt than the beach? And while you won't find Waldo, unless 1920s-era red and white bathing suits  and coke-bottle glasses start making a comeback, there are plenty of neat things to hunt for. As it turns out, there are also tons of fun beach scavenger hunt ideas to be found on Pinterest.
The game is simple:
1. Create a scavenger item list. You can simply write down the items on paper or cut and paste images found elsewhere (particularly good for the very little ones). We created an AWESOME list tailored to North Myrtle Beach for you to print out.
Possible things to look for:
3 oyster shells
1 piece of seaweed
something orange (or blue, or green)
1 bottlecap
1 piece of driftwood
Use your imagination and creativity. If you have older kids, consider throwing in some more challenging items like a complete sand dollar or a shark's tooth.
2. Let the kids do what they do best: comb the beach for the listed items. Depending on age, you may want to accompany them on the hunt.
3. Reward your scavengers for a job well done. Ice cream, new beach toys, or a special vacation treat are all great rewards for successful completion of the beach scavenger challenger.
Enjoy your Myrtle Beach scavenger hunt!