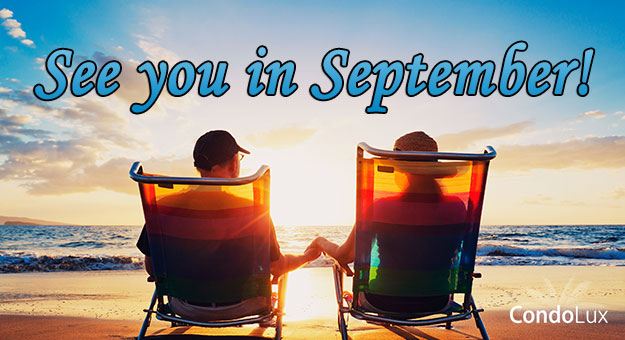 North Myrtle Beach is often depicted as a popular summer destination, but what many forget is that our location and attractions are perfect for all seasons. As the long, languid days of August bring yet another school year for many families, September ushers in a calmer, quieter and cooler season to explore the Grand Strand.
After living here for 5 years, I appreciate the post-Labor Day shift. September marks the start of an unofficial "fall season," and I always try my best to get my friends and family to come visit during this time. Here's why:
1. Outstanding Value: Beach rentals fetch top-dollar during the summer, and what most don't realize is that come September and October, rates drop significantly. CondoLux offers vacationers plenty of options for all budgets, but the fall season is certainly going to make your trip more affordable.
Fall also brings in more options for monthly rentals, so if you are a "snowbird," or want to "try out" life along the Grand Strand for an extended stay, the fall season is a great way to see more of our "local life" while also saving money.
2. Awesome Weather: Fall in North Myrtle Beach is not the fall of my childhood home in New England. While I miss "hoodie season" and the changing of the leaves, it's hard to pass up the sunny days in the 70s and 80s with a beach practically all to myself. September in NMB averages 83 degrees, and October is a pleasant 75.
This is still shorts and t-shirt weather, and believe it or not, swimming season. You won't see the crowds on the sand, but ocean waters still average in the upper 70s for September and October, making it one of my favorite times of the year to go swimming, surfing and kayaking.
3. Golf: The Grand Strand is home to nearly 100 courses, making it a premier destination for golf enthusiasts. Fall is typically said to be our prime season on the links. With the oppressive heat of July and August behind us, cooler weather makes for pleasant tee times that don't need to start at 6:45AM to be playable. Moreover, fall brings exceptional value to golf vacationers. Condolux specializes in crafting customized golf packages to allow visitors to survey a handful of courses at a great value.
4. Shopping and Dining: North Myrtle Beach is home to some phenomenal shopping including the Tanger Outlets and Broadway at the Beach. Retail stores are open for business, and the fall season means fewer crowds and more available parking.
Also, cooler temperatures in the fall bring in new schools of fish and the opening of the commercial shellfish season. One of my favorite things about fall are the local oyster roasts and fish frys that happen along the Grand Strand.
5. Sports and Recreation: North Myrtle Beach is home to the newly constructed Park and Sports Complex that offer a diverse selection of sport event facilities that can accommodate a range of activities – such as baseball, softball, lacrosse, soccer, quidditch, and flag football. The facility is also home to a number of amazing playgrounds, picnic areas, walking and biking trails, and even a dog park.
Fishing enthusiasts will love fall for runs of sea trout and spot tail bass. Fall is also a wonderful time to explore the ocean and inlets by kayak. There are a handful of kayak tour and rental companies in both North Myrtle Beach and Cherry Grove. This is a perfect time to get outside and explore.
That's my list, but what are your favorite things about the Grand Strand in the fall? Please comment and let us know what we are missing!