There are plenty of things to do in North Myrtle Beach. While many of these wonderful attractions cost money, there are also plenty of things that are free to do. If you want a relaxing vacation and would rather not break your wallet to keep your family entertained, North Myrtle Beach is the destination for you.  Here are just a few of the fun and free things to do in North Myrtle Beach.
[row]
[column md="6″]
[img responsive="true"]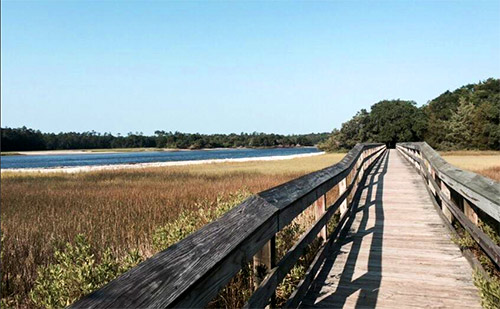 [/img]
Vereen Memorial Historical Gardens
This wildlife refuge is the perfect place for an afternoon picnic and hike through the salt marshes. The park offers a boardwalk to make hiking easier and gazebo situated near the Intracoastal Waterway with some amazing views. Visitors to the Vereen Memorial Historical Gardens can catch a glimpse of some of the area birds, wildlife and plants and even check out a Civil War cemetery. The area offers some of the best natural views and photos opportunities in North Myrtle Beach and admission is free.
[/column]
[column md="6″]
[img responsive="true"]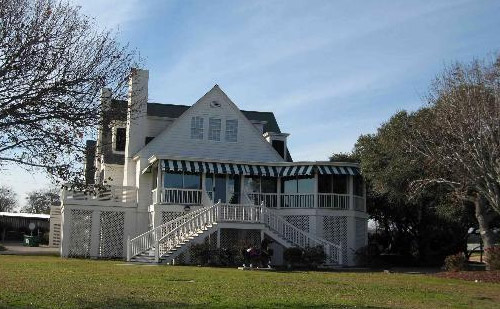 [/img]
Franklin G Burroughs — Simeon B Chapin Art Museum
If you enjoy art work and regional crafts, consider spending a morning at the Franklin G Burroughs — Simeon B Chapin Art Museum. The museum is free but does happily accept donations. On display are arts and crafts created in the area as well as old maps and antique prints. The museum itself is also a work of art. It was once headed for demolition, but was saved, moved and turned into the museum. It was formerly the Springmaid Villa, a 10,000 square foot 1927 mansion.
[/column]
[/row]
[row]
[column md="6″]
[img responsive="true"]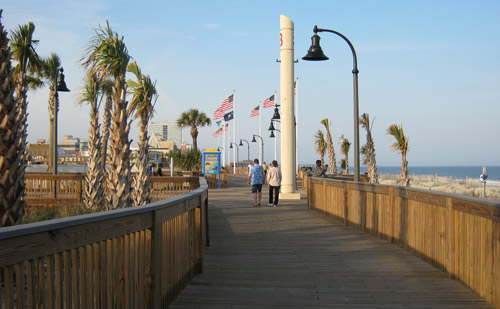 [/img]
Myrtle Beach Boardwalk & Promenade
There is always something going on at the Myrtle Beach Boardwalk and Promenade. You can enjoy musical entertainment, magicians, children's entertainment, free festivals, inflatables and more. Take a walk down the boardwalk and take in all the sights, sounds and scents of the beach while people watching and enjoying the laidback atmosphere and beautiful scenery. We walk along the boardwalk almost every evening and always see something new and entertaining. Check out the full schedule here.
[/column]
[column md="6″]
[img responsive="true"]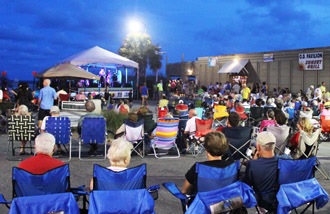 [/img]
"Music on Main" Concert Series
If you love music, head to downtown North Myrtle Beach to enjoy the "Music On Main" concert series. These free concerts are 7-9 p.m. every Thursday night through Oct. 31 and offer some of the areas new and upcoming bands and artists as well as guest artists. The concerts are all free and you can find a list of performers and a schedule on Condo-World.
[/column]
[/row]
[row]
[column md="6″]
[img responsive="true"]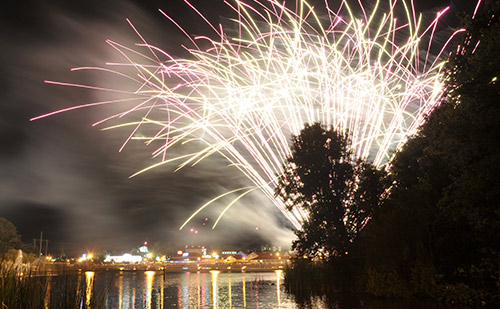 [/img]
Fireworks
Everyone loves fireworks and you can catch them almost every night at or near North Myrtle Beach. Barefoot Landing, Broadway At The Beach and several piers along the Grand Strand sponsor and host a fireworks show throughout to summer. Whether you watch them from the beach or a nearby area attraction, the fireworks shows are always free and always entertaining. We sometimes plan our day around the fireworks shows so we know we are close by and will have a great view. There's nothing like watching fireworks on the beach.
[/column]
[column md="6″]
[img responsive="true"]
[/img]
Barefoot Landing
Barefoot Landing is a popular tourist spot in North Myrtle Beach and it offers numerous attractions, shops and restaurants situated right on the waterway. While many of the activities at Barefoot Landing do cost money, there is plenty to do and see for free as well.  Barefoot Landing features many performers, free samples, photo opportunities and beautiful scenery to enjoy on a summer evening. Watch tasty fudge being made at The Fudgery, see the tigers at the T.I.G.E.R.S. Preservation Station viewing area, enjoy the fireworks and listen to some relaxing music. My family makes a trip to Barefoot Landing every time we visit North Myrtle Beach.
[/column]
[/row]