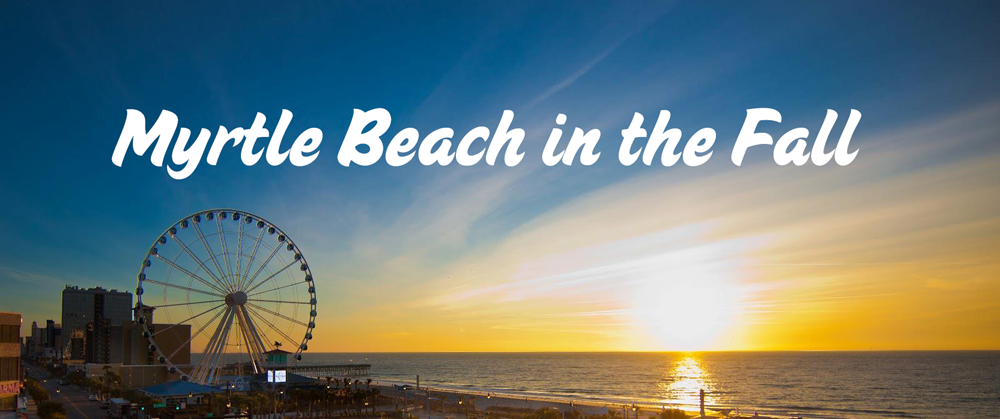 Myrtle beach is  a popular summer vacation spot, but  have you ever thought of visiting in the fall? The warm weather and fun continues at Myrtle Beach even after schools are back in session and everyone goes back to work.  August, September and October all offer warm afternoon beach weather and cooler evening weather to spend walking along the boardwalk or sightseeing on the beach. More and more people are visiting Myrtle Beach in the fall, and here's why:
Faster Check-Ins
When you show up at your hotel or beach rental during peak vacation times, you usually have to wait in a long line at the check-in counter and then hope you can find a luggage cart and catch a packed elevator. In the fall, the hotels are much less crowded and you will be able to check in much quicker. You may even be luck enough to find a luggage cart waiting for you in the lobby and an uncrowded elevator resting on the ground floor.
More Rental Options
Finding the perfect room or rental can often be challenging in the summer when everyone is searching for the same thing.  Fall weather brings different crowds of people to Myrtle Beach and many of them are looking for different types of rentals. Where summer travelers want to be in oceanfront accommodations right on the boardwalk and fill up all of the best condos, fall visitors are more laidback when choosing their lodging options, thus making a larger variety of rooms and rentals available for everyone.
Better Prices
You can count on getting better deals and prices in the fall. Hotels and condos drop their rental prices, restaurants offer different menu options with more specials and deals and attractions tickets are often cheaper as well.  Since business tends to slow down in the fall, businesses offer more competitive prices to attract what visitors are in the area.
Smaller Crowds
How many times have you wanted to ride the SkyWheel but decided against is because of the huge line? How about those 3-hour and up restaurant lines to top dining locations and popular spots like Margaritaville? Everyone loves Myrtle Beach and that becomes apparent in the summer when the beaches, hotels, shows, restaurants and attractions are all crowded. In the fall, all of these places are much less crowded making them easier to get to and more enjoyable.
Mild Weather
Everyone loves warm weather at the beach, but sometimes the heat can be unbearable and lets not forget all those summer storms and showers. Fall weather is much more mild but just as enjoyable. During the day the weather is still warm enough to enjoy the beach and at night a cool breeze makes walking the boardwalk, shopping at Barefoot Landing or Broadway at the beach or attending fall festivals and activities even better.
Fall Festivals
Myrtle Beach is home to a variety of fun fall festivals and events. If you are considering a fall trip, you my want to check out some of them. Some of the most popular include,
Society of Stranders Fall Shag Migration
Dog Days Blues and Jazz Fest
Atalaya Arts and Crafts Festival
Brew at the Zoo
Fall Bike Week
Annual Oktoberfest
Grand Strand Mustang Stampede and Classic Ford Car Show
Harvest Home Weekend Festival
Myrtle Beach Wine Fest
Annual South Carolina Bluegrass Festival
Relaxing Atmosphere
One of the biggest reasons people love to vacation in Myrtle Beach in the fall is the calm and relaxing atmosphere. With college kids back on campus and younger children in school, Myrtle Beach is much more quiet and relaxing. You can take a nap on the beach without being with a football and even sit out on your balcony at night and hear the ocean waves crashing on the beach instead of the roar of engines and exhaust pipes.
—————————-
If you want to experience a different side of Myrtle Beach, be sure to visit in the fall. Everything you love about the beach is still here, but you can also enjoy the Grand Strand from the locals point of view and with a more relaxed and laidback environment.