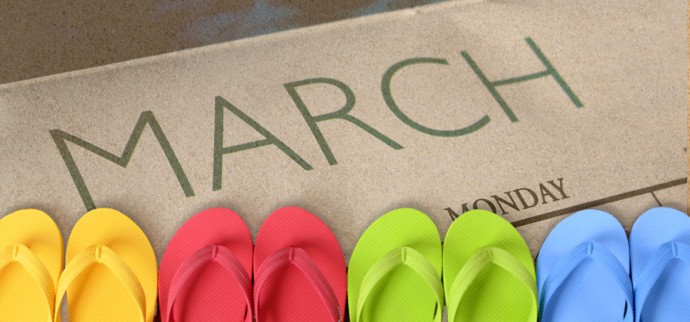 March is here and will hopefully be bringing with it some prime beach weather. No matter what the weather is, there is always plenty do to in Myrtle Beach and North Myrtle beach in March. If you will be visiting the beach in early spring, don't miss this fun events and shows taking place this month.
Nature Connects Art With Lego Bricks
This art shows combines nature and Lego bricks for a fun and unique exhibit.  These works of art will be on display at Brookgreen Gardens starting in March and lasting until September.  It is great for kids who love nature or Lego bricks or anyone who shares those interests.
Wild 4 Hypnosis Comedy Show
This fun interactive show is sure to bring some laughs to your evening and create some lasting memories. With two shows; one designed for adults and the other for families, you won't want to miss you chance to be hypnotized on stage.  Visit the website. A CondoLux employee was actually hypnotized during the show! Check out the story here.
The Oaks Plantation History and Nature Trail
If you enjoy the outdoors, you may want to check out the Oaks Plantation History and Nature Trail. Take a walk back in time and learn more about the plantation and its archaeological sites. You can view the plantation owner's house and the kitchen in the overseer's house and even check out the enslaved African village.  Tickets are available at Brookgreen Gardens.
Ripley's Family Fun Run
There are many races and running event in the Myrtle Beach area, but Ripley's Family Fun Race is one of the best. Bring your family out on March 4th to enjoy the one-mile course will begin and end near Ripley's Aquarium at Broadway at the Beach. Great for adults and children.
Surfside Beach BBQ Festival
If you feel like some BBQ this March, you won't want to miss the Surfside Beach BBQ Festival. You can sample many different types of BBQ and enjoy live music by the Josh Brannon Band and Sawgrass  and inflatables for the kids. There will also be plenty of vendors on site.
—————–
March is a great time to visit the beach and if you are looking for something fun to do, you won't be disappointed. Check out these fun events and others that are coming to the Myrtle Beach and North Myrtle beach areas this March.