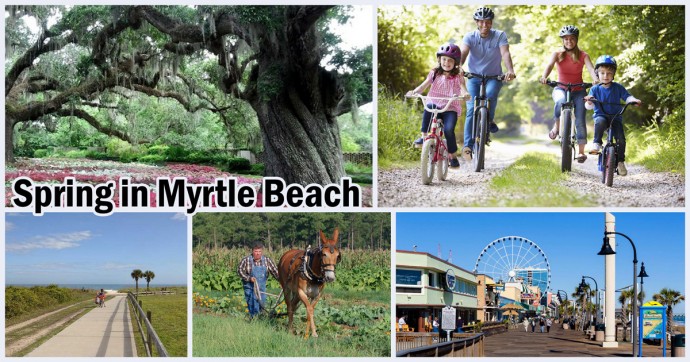 Spring has officially arrived in Myrtle Beach and there is plenty to see and do in the area. Spring means the arrival of all things beautiful and new and motivates many people to spend more time outdoors. If you are looking for some ways to enjoy spring in Myrtle Beach, check out these options.
Myrtle Beach State Park
Myrtle Beach State Park offers plenty of activities that are perfect for spring. Enjoy the beautiful flowers in bloom, do some birdwatching or observe rare species like the Loggerhead Sea Turtle in their natural habitat. You can also take a walk along the beach and collect shells.
L.W. Paul Living History Farm
What could be a better representation of spring than a farm. The L.W. Paul Living History Farm is part of the Horry County Museum family. It is free to the public and spring is the best time to visit. Baby animals are born, flowers start to bloom and there are plenty of demonstrations going on such as cow milking, soap making and meat curing.
Brookgreen Gardens
Brookgreen Gardens is one of the best places to enjoy everything that spring has to offer in Myrtle Beach. Tour the grounds and check out the amazing plans and flowers that grow there as well as the breathtaking sculptures. There is no place like it in the world and you will enjoy spending a nice spring afternoon there.
Bike Path
Spring is a great time to take a bike ride and Myrtle Beach has some great bike trails. If you are feeling up to it, try the 26-mile trail from Murrells Inlet to Litchfield Beach or go mountain biking on the trail called "The Hulk." Many of the marshes and nature areas also have bike paths that run through them.
The Boardwalk
During the spring the Boardwalk starts to come alive with all the sights and smells of the beach. Spend a spring afternoon strolling through the shops, playing a few arcade games and enjoying some of the tasty treats that are available. There are also many activities that take place on the Boardwalk during the spring.
Spring is a great time to visit Myrtle Beach and North Myrtle Beach. If you happen to be in the area during spring break or anytime this spring, check out some of these fun attractions.