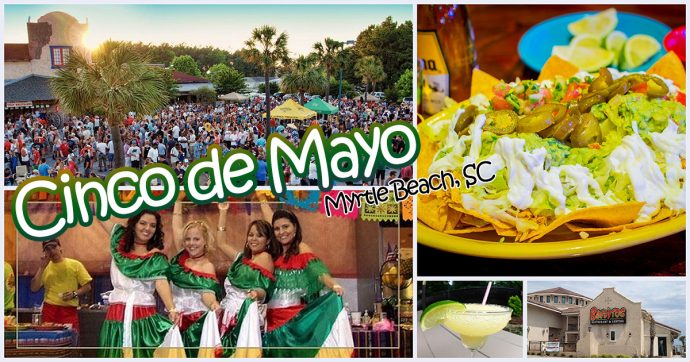 Cinco De Mayo is just a few days away and if you are looking for a great place to party or celebrate, Myrtle Beach and North Myrtle may offer some great options. While Cinco De Mayo is a Mexican holiday, it had also become a time for celebration in the United States.  If you are going to be in Myrtle Beach or North Myrtle Beach this Cinco De Mayo, be sure to check out some of these fun events.
Abuelo's
Abuelo's in Myrtle Beach is passionate about providing the area with authentic Mexican food and they are planning some great specials for Cinco De Mayo.  These specials include $3.25 Dos Equis drafts and $6.95 Flag Margaritas. Celebrate Cinco De Mayo with some good food and affordable drinks at Abuelo's.
BurroFest
In honor of Cinco De Mayo, Burro Loco is hosting BurroFest in the parking lot. There will be plenty of music and live entertainment, games, food and of course drinks. The event will be held from 11 a.m. to 1 a.m. Thursday, May 5 and live music will begin at 4:30 pm. Admission is free.
Bandito's
Bandito's is a popular Mexican restaurant in the Myrtle Beach area and it will be hosting a Cinco De Mayo party to celebrate the holiday. The even will feature live music and happy hour specials including, $4 margaritas on the rocks, $4 Fireball and Jager shots. There will also be live entertainment by Travis Proctor, Backfire, Paperwork and Matt Parker and the Deacons on the oceanfront stage. Karaoke will begin at 8 pm.
CineBowl & Grille
CineBowl & Grille at Inlet Square Mall in Murrells Inlet will be offering several drink and food specials to celebrate Cinco De Mayo. These specials include, $2 chicken or pork tacos, $2 chips and salsa and $5 drink specials from 4-8 p.m. CineBowl and Grille also offers other fun activities and is a great place to celebrate any special occasion of holiday.
Fiesta Mexicana
Fiesta Mexicana is bringing a big Cinco De Mayo celebration to North Myrtle Beach with the Cinco de Mayo Beach Party. The event will feature $3 Coronas, live music from Chocolate Chip and friends and many other happy hour specials. Enjoy delicious Mexican food and cheap drinks.
If you are looking for a great place to celebrate Cinco De Mayo, check out one of all of these locations. Add a little bit of Mexico's celebration to your
beach vacation
and celebrate Cinco De Mayo Myrtle Beach style.