Family vacations are a lot of fun and a great way to make memories with your children. They can also be expensive. Myrtle Beach and North Myrtle Beach offer affordable family attractions that are perfect for kids of all ages and families of all sizes. If you want to treat your kids to a great time at Myrtle Beach without breaking the bank, check out these top 5 affordable family attractions.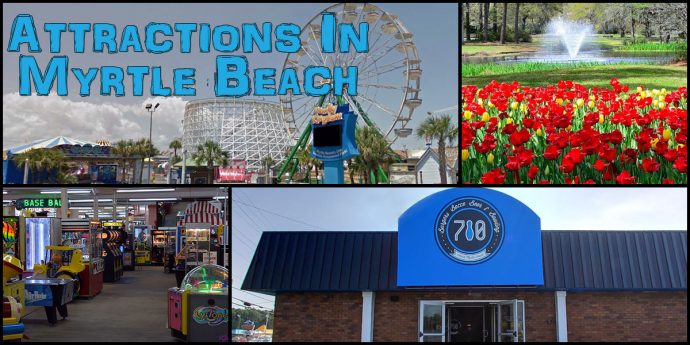 Fun Plaza Arcade
The Fun Plaza is an arcade located on the Myrtle Beach Boardwalk and in view of the ocean. Its offers claw games, skee ball, simulation games, arcade games, small rides for toddlers and ticket reward games. There is a prize redemption office located in the center of the arcade with prizes stacked and displayed in the windows. You can also enjoy snacks and drinks from the snack bar. The Fun Plaza is a great place to spend the evening with kids. I can remember going every year on vacation with my parents and now my family makes it a point to spend some time there each visit too.
Family Kingdom
Kids will love Family Kingdom. Not only is it one of the only amusement parks on the ocean, it is packed with fun rides and games. With everything from kidding rides to carnival style rides and roller coasters, Family Kingdom is perfect for families with small children or thrill seekers. My family spend a day of our vacation there every year.
710 North Myrtle Beach
If your family loved bowling, arcade games and food, 710 North Myrtle Beach is the place for you.  It offers white-light bowling, private black-light-glow lanes and plenty of arcade games. You can also enjoy food from the onsite restaurant and drinks from the bar. Bowling is affordable ranging form $3 to $5 a game depending on the day and time of day you visit. Shoe rental is $3.
The SkyWheel

The SkyWheel is one of the most popular attractions in Myrtle Beach and it is great for families. Everyone should ride the Myrtle Beach SkyWheel at least once but many people like to make it a tradition and ride it every time they visit Myrtle Beach.  Tickets are just $9 for kids ages 3 – 11 and kids 2 and under ride free. My family rides the SkyWheel every year.
Brookgreen Gardens
Brookgreen Gardens is great for families because it is affordable and has something for everyone. There are plenty of activities and events for children and lots of beautiful scenery for adults. Children will also enjoy the animals at the Lowcountry Zoo. Children's tickets are just $8 for kids 4-12 and children 3 and under are free.