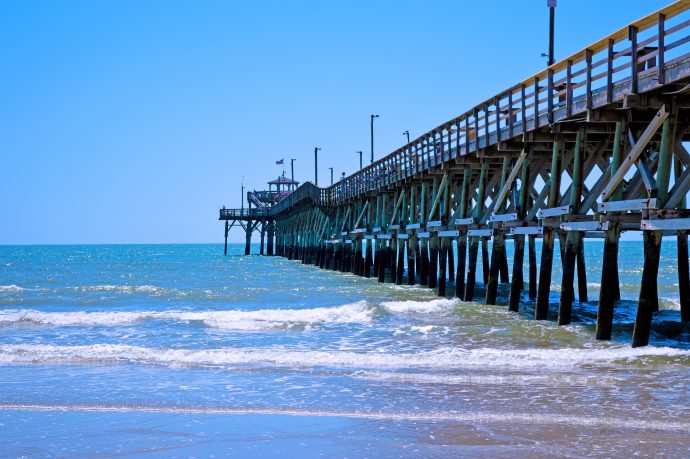 If you are looking for a great place to spend the afternoon during your vacation in North Myrtle Beach, check out the Cherry Grove Pier. This pier is clean, has amazing views, and has plenty to offer people of all ages. Thousands of people visit the pier every year. You can walk out on it and spend a few minutes or you can spend the whole day. Here are five things everyone should do at the Cherry Grove Pier.
Go Fishing
The Cherry Grove Pier is a fishing pier. If you don't want to fish yourself, you can watch other fishermen bring in their catches. If you do want to fish, you can rent all the gear and equipment you need right at the pier. The Cherry Grove Pier has been the home of many record catches. You might just catch the next record-breaker.
Take Photos
In general, Cherry Grove Beach is full of scenic photo opportunities. If you are looking for a great place to get photos of the ocean or the beach, the Cherry Grove Pier is the place. You can get some great shots. Don't forget to take some of your family and friends on the pier while you're at it.
Grab a Quick Meal
The pier has some tasty treats if you are in the mood for a snack or a meal. Check out the Boardwalk Beach Café. They always have something tasty on the menu and it's a great place to cool off and get out of the sun. Enjoy lunch and dinner or a nice cold drink. The views can't be beaten.
Go Sightseeing
You never know what you might see on the Cherry Grove Pier. Check out the water for some fish. You may see jellyfish, sharks, stingrays, and more. You can also see many birds and even turtles. There more time you spend on the pier, the more you will see.
Attend a Local Events
There are always fun events going on at the pier. Participate in a fishing tournament, enjoy an art show, or just celebrate being at the beach. You can find plenty of things to do all season.
Resorts Near Cherry Grove Pier