[separator]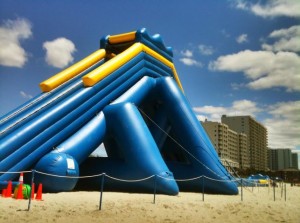 North Myrtle Beach decided to bring back a family favorite for the Summer of 2012 – The "Hippo" Water Slide. This attraction has been crowned the World's largest inflatable water slide! The Hippo stands an impressive 36 feet tall and spreads across the oceanfront a staggering 180 feet long.  The Hippo is not just for kids, but also for adults who are secretly kids at heart (don't worry, we won't tell anyone)! After the overwhelming response the water slide received after its debut last Summer, they decided they would go another round of slippery fun with the big guy.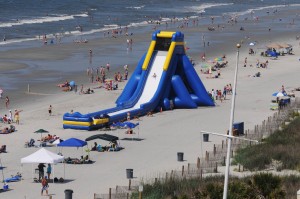 Where is "The Hippo" Water Slide Located?
The water slide is located directly on the beach, 2 blocks from Main Street (in between 1st and 2nd Avenue South) in North Myrtle Beach, South Carolina.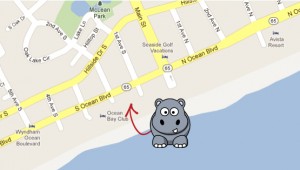 How Much is it to Ride?
The price is set at an extremely fair $3.00 per ride. Also, if your kids falls in love with the big guy, and you can't seem to pull them away from it, you can purchase an all-day pass for $20.00
Where Can I Buy Tickets?
Tickets are available for purchase at Ocean Park, located on 2nd Avenue South (street side).
When is The Hippo Water Slide Open?
The water slide will operate from 10:30am – 4pm, 7 days a week until Labor Day (September 3rd, 2012).
UPDATED on August 3rd, 2012:  The Hippo Water slide has been closed for repairs. We are not certain if it will re-open for the remainder of the season.
Which Oceanfront Resorts in North Myrtle are located near the Hippo?
But What If I'm Staying in the Cherry Grove or Crescent Beach Area?
Don't worry folks, the water slide is located within a reasonable driving distance from both of these areas. Just take Ocean Blvd. until you hit 1st or 2nd Avenue South in North Myrtle Beach.
Can I See More Awesome Pictures Of The Water Slide?
Ask and you shall receive!