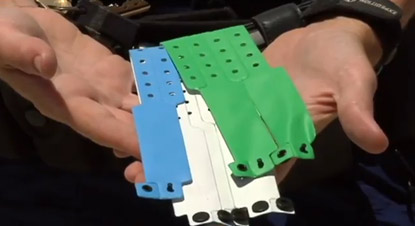 Taking your children to the beach is a fun way to enjoy the outdoors, get some exercise, and make a lot of memories. However, when beaches are crowded, you still want to know that your children will be safe. In the blink of an eye, you could lose site of your little ones.  It happens quite often actually, lifeguards and beach patrol say they can have up to 30 reports of missing children per day! The city of North Myrtle Beach in South Carolina has a new plan to keep children from wandering too far: the wristband program.
The wristband program is an optional program for parents to take part in while visiting North Myrtle Beach. Works simply enough: children are given a wristband by the lifeguard when they arrive at the beach. These wristbands come in different colors and each color coincides with the area of the beach that the family is staying. The number of the closest lifeguard tower is put on the wristband, and parents can choose to include any other personal information as well. When a child with a wristband is lost, the beach authorities know where to start looking for their family based on the wristband color and tower number.
Having a family vacation at the beach should not be a stressful time. The wristband program gives parents and caregivers peace of mind, knowing that those in their care will easily be located if they do happen to wander. You can get some more info about the wristbrand program at the North Myrtle Beach Beach Patrol website, but that is the jist of it. If you want a wristband, simply visit the nearest lifeguard tower where you are parked on the beach and ask, they'd be more than happy to help!
Keep in mind, this is just NORTH Myrtle Beach at the moment, a seperate city that Myrtle Beach.  Where exactly IS North Myrtle Beach?
Video and photo provided by WPDE News Channel 15.