Living in the digital age has its benefits, particularly when it comes to planning your next vacation. Using Google Maps, vacationers have access to bird's eye and street views of nearly any place on Earth, and satellite technology allows you to see real images of the properties, locations and the section of beach you plan to stretch out on. You can even plug keywords into Google Maps to find more nearby rentals, restaurants, attractions and more. Best yet, you don't need to be a computer genius to do all this; it is very user-friendly. Here's how:
1. Visit Google Maps and type in a search term. In the image below, I've started to type "Crescent Keyes," a popular oceanfront condo rental in North Myrtle Beach.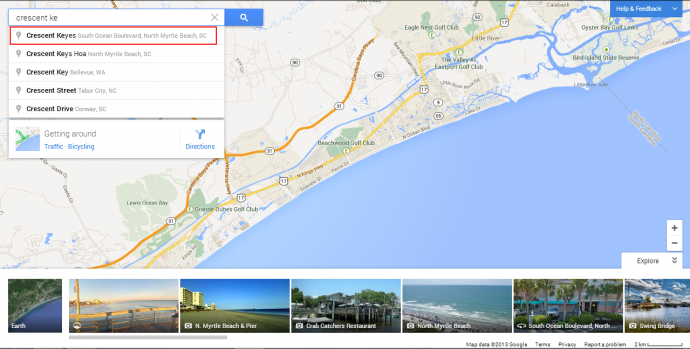 2. After you click on "Crescent Keyes," a red pin appears on the map where it is located. One of the great features of Google Maps is the ability to easily click on "Street View" and related images, in addition to contact information, hours of operation, directions and user reviews. Pulling up the menu on the bottom reveals more images of the area, and a satellite image that allows viewers to switch to "Earth" mode.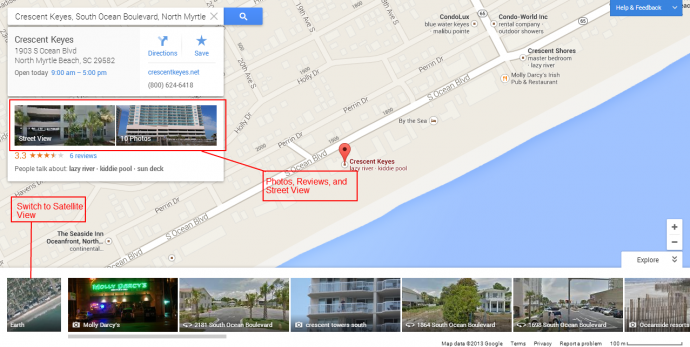 3. Clicking on "Earth" simply transforms the map from the standard map view to the satellite, bird's eye image. From this I can see that Crescent Keyes has an easy access from the pool area to the beach, and features both a traditional swimming pool, kiddie pools and a lazy river. The tools in the bottom right allow the user to zoom in or out, as well as tilt and rotate the map.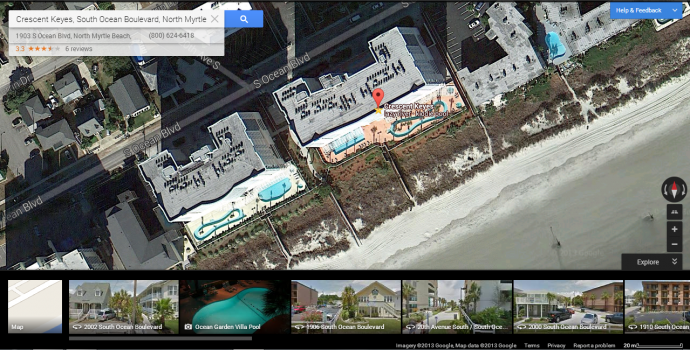 4. Switching to the "Street View" mentioned earlier, one is able to see Crescent Keyes from S. Ocean Boulevard. If you want to see what entrances, parking or what the nearby sidewalks look like, use Street View to move up and down the street, rotating the map in all directions.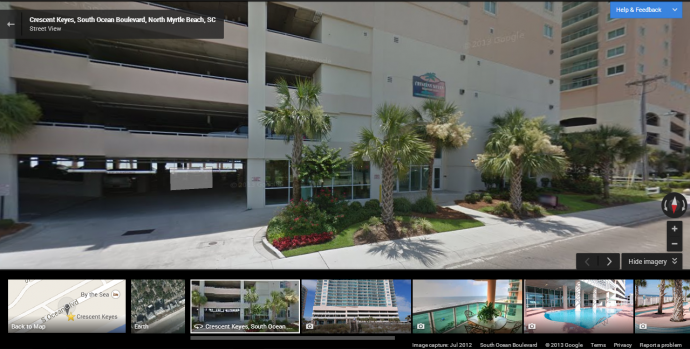 5. Finally, you can switch back to the initial bird's eye view to map directions between two points. In the image below I've plotted directions from Crescent Keyes to the CondoLux rental and sales office on 17th Ave S. This is a great way to see the distance and differences between two properties. Google even adjusts time estimates and routes depending upon your mode of transportation (walking, bicycling, driving, etc).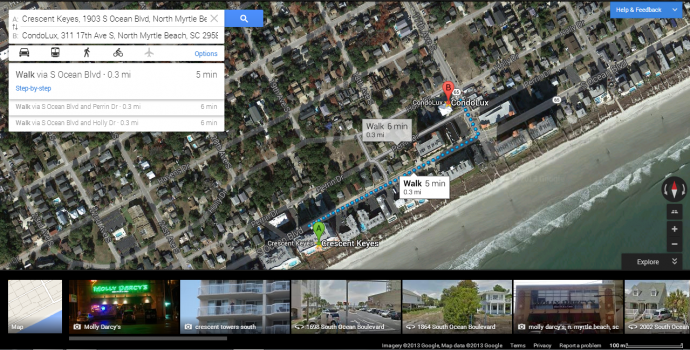 Google Maps is wonderful feature that can help you plan your Myrtle Beach area vacation. And if you are new to Maps and get stuck, simply click on the "Help & Feedback" button that is always present in the upper right hand corner for easy solutions.
There is one important thing to remember!! This is not a "live view" of your rental. Depending on the location and how often the Google satellite or the Google street car visits, the images you see could very well be months (or maybe years) old.
All Imagery ©2013 DigitalGlobe, U.S. Geological Survey, USDA Farm Service Agency, Map data ©2013 Google