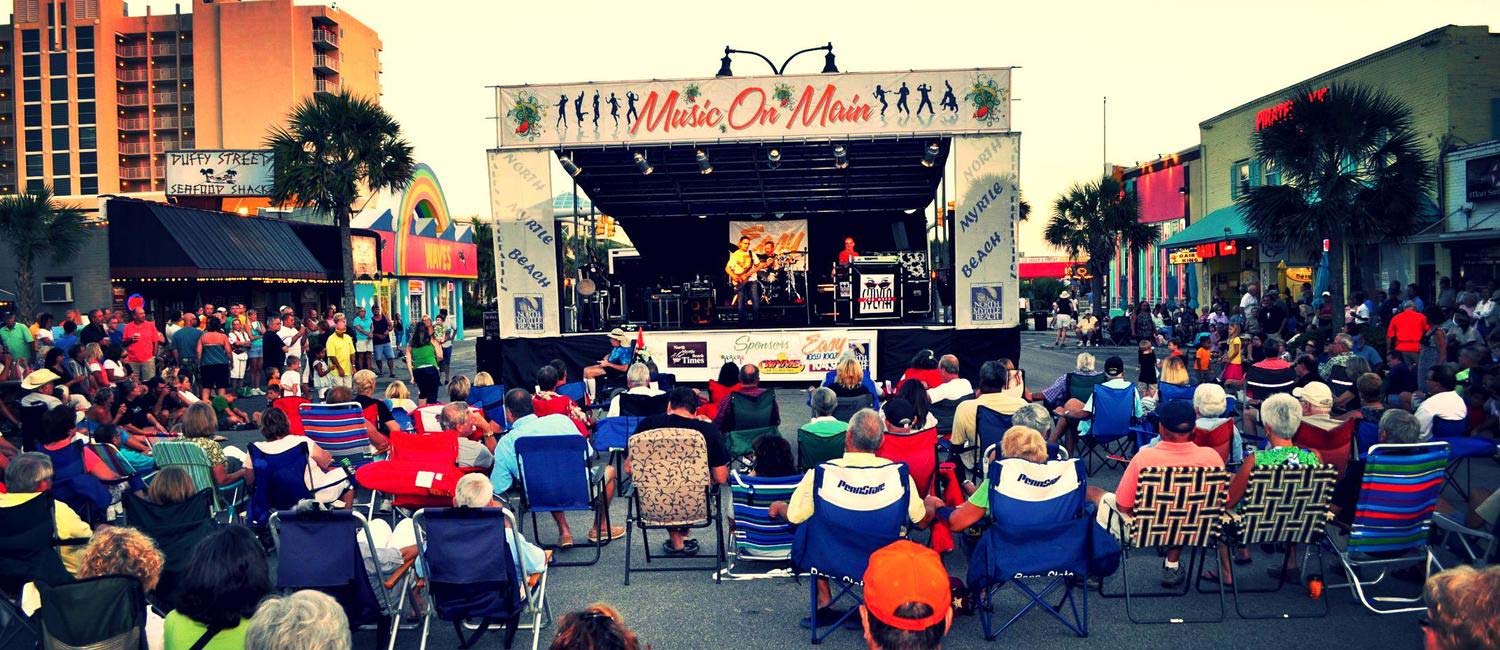 Who doesn't like concerts? Especially of they are free? Myrtle Beach has plenty of musical entertainment all year long, but in the summer you can catch some awesome free concerts.  What better way to unwind after a long day at the beach than with some great music? Check out these great free summer concerts in Myrtle Beach.
Myrtle Beach Boardwalk
There is always something going on at the Myrtle Beach Boardwalk and this summer you can enjoy music and live entertainment every Monday in June at the I Love Sugar Stage in Plyler Park from 8pm to 11 pm.  Summer concerts will be held on Tuesday, Thursday and Saturday nights in June and Tuesday and Thursday nights in July and August. One Wednesdays you can also enjoys DJ/Karaoke nights from 6-9 p.m. on the Blu Energy Stage at Ninth Avenue North.
The Boathouse
The Boathouse in Myrtle Beach is hosting a free summer concert series and will host a new band ever Sunday night. The Boathouse is located at 201 Fantasy Harbour Blvd. in Myrtle Beach. The schedule so far includes:
May 29 – Cadillac Three
June 5 – Canaan Smith
June 12 – Schwayze
June 19 – Cowboy Mouth
June 26 – Badfish
July 3 – Atlas Road Crew
July 10 – Adelitas Way
July 17 – The Movement
July 24 – Edwin McCain
July 31 – Luke Combs
Aug. 7 – Collie Buddz
Aug. 14 – Saliva
Aug. 21 – Jerryfest 12
North Myrtle Beach Park and Sports Complex
North Myrtle Beach will also be getting in on the fun of a free concert series and will be hosting the North Myrtle Beach Sounds of Summer Concert Series. The concerts will be held at the North Myrtle Beach Park and Sports Complex and there will be snack and refreshments for sale each night.  Concerts are held fro 7-9 p.m. and the schedule includes:
Friday, May 20 – Fantastic Shakers
Friday, June 17 – Former American Idol Finalist Elise Testone
Friday, July 15 – Paul Grimshaw Band
Friday, Aug. 19 – Too Much Sylvia
Friday, Sept. 16 – Andrew Thielen Big Band
Main Street In North Myrtle Beach
North Myrtle Beach will also host the Music on Main Concert series will be held from 7-9 p.m. Thursdays on Main Street in North Myrtle Beach some concerts will also be held at the Horseshoe at 11 S. Ocean Blvd. This summer's schedule consists of :
Thursday, May 26 (Horseshoe)– The Embers featuring Craig Woolard
Thursday, June 2 (Main Street)- NTranze
Thursday, June 9 (Horseshoe)– Gary Lowder & Smokin' Hot
Thursday, June 16 (Main Street)– Ultimate Rock Machine
Thursday, June 23 (Horseshoe)- Entertainers
Thursday, June 30 (Main Street)– Sound Express and Legacy
Thursday, July 7 (Horseshoe)– Marsha Morgan Band
Thursday, July 14 (Main Street)– Tim Clark Band
Thursday, July 21 (Horseshoe)– Carolina Breakers
Thursday, July 28 (Main Street)– Caribbean Chillers
Thursday, August 4 (Horseshoe)– Mark Roberts Band
Thursday, August 11 (Main Street)– Chocolate Chip & Co.
Thursday, August 18 (Horseshoe)– Blackwater Rhythm & Blues Band
Thursday, August 25 (Main Street)– Special Blend
Thursday, September 1 (Horseshoe)– Carolina Soul Band
Thursday, September 8 (Main Street)– Six Stylez
Thursday, September 15 (Horseshoe)– Midnight Allie
Thursday, September 22 (Main Street)–  Rick Strickland Band
Thursday, September 29 (Horseshoe)– Hip Pocket Band
Thursday, October 6 (Horseshoe)– Jim Quick & Coastline
Keep in mind, there are a few condos in North Myrtle Beach that are within walking distance to Main Street: Ashworth, Ocean Bay Club, Avista and Verandas by the Sea.
Broadway At The Beach
Broadway At The Beach's Summer Nights brings talent and artists from all over the world to Myrtle Beach. There are new sings and bands performing almost every night in June, July and August. Check out the full schedule here.