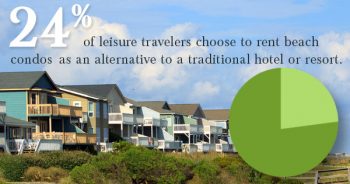 We may be well into summer already, but it is certainly not too late to plan an impromptu summer vacation. As many as 45% of Americans go on a summer getaway; why shouldn't you? You work hard and you deserve some time off. Why not be a little spontaneous?
The first step to planning a summer vacation is to choose a destination. The most popular destinations for summer trips are to beaches (45%), cities (42%), national parks (21%), lakes (17%), and resorts at 14%.
Let's say you've decided on a relaxing beach vacation. Sun, sand, surf, maybe some sangria? What more could you ask for?
Next, you'll need to find a place to stay. Today, more leisure travelers than ever (24%) choose to rent beach condos as an alternative to a traditional hotel or resort. Oceanfront condo rentals provide the vacationer with all the luxuries and none of the hassles of traveling. The top five reasons leisure travelers choose vacation rentals as an alternative to staying in hotels or resorts include the value for price (94%), privacy (90%), full kitchen facilities (87%), amenities (84%), and more overall space (81%).
Depending on where your travels take you, selecting the very best in oceanfront condo rentals might be a challenge. You want to get the most for your money because let's face it, no one likes to feel cheated on their vacation. Here are a couple of basic tips for renting oceanfront condos.
Know what you want: What are the amenities you simply can't live without? Perhaps you really want to be within walking distance to the nicest part of the beach, or maybe you want to have your own private pool. Once you know exactly what you're looking for, make a list. This will help you narrow down your options and ensure that your summer vacation is everything you had hoped and dreamed of.
Find out what is included in the rental: The last thing you want is to find all sorts of surprise fees listed on your bill. Make sure you clarify ahead of time exactly what is included in the price of the rental and what the owners consider to be "extra." For instance, are utilities included? What about cable and Internet? Go over the rental agreement with a fine-toothed comb before signing.
So, what are you waiting for? This could be your year for the best summer vacation ever! Choose a destination and check out available vacation rentals.