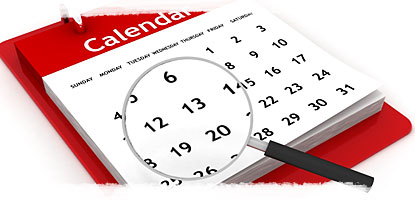 It's a common question faced every year. You're browsing around the websites in Myrtle Beach (or any area really) and you are looking for deals — the "best bang for the buck" as they say.  You are faced with a quandary though. What is the BEST way to save money?  Should I reserve now, 6 to 8 months before our vacation? Or should I wait until it gets closer to time and book with a last minute deal of some sort?
Both have their pros and cons, let's explore.
Booking Your Rental Early
You're a planner, aren't you?  Your quest is to find the ultimate vacation rental in Myrtle Beach for your vacation next summer. You want to make sure your trip is all set up and ready to go so you don't have to worry about the stress of planning a last minute vacation. You have to make sure your family has scheduled time off work and you are going to have enough funds to pay for it at the time.  Sound familiar?
The pros of booking early opens you up to getting the best selection of availability.  Reserving a condo in Myrtle Beach isn't like booking a hotel.  Hotel rooms are all decorated the same most of the time, so it doesn't matter if you get unit 101 or 103.  Condos, however, are all individually owned. Each owner decorates their condo differently. Some take the time to really deck out their condo rental, and you see some MAJOR differences between two units in the same building. (Read more about Condos vs Hotels) And truth be told, the best condo rentals book up quickly, every single year because of their "diamond in the ruff" mentality.
However, also keep in mind, that condos in general (no matter what or where) have been more sought after over the years in Myrtle Beach, as opposed to hotels.  So reserving early guarantees you your favorite rental unit.  While there may be no specials, deals or price breaks on early bookings, you ARE guaranteed availability and a booking for peace of mind.
Lindsay Huth Giallombardo, one of our guests from facebook has the right idea!  "We usually book through you in November for our vacation in August every year and have always paid a reasonable price while having alot of condos to choose from. Can't wait to book for next year! "
Booking Your Rental Late
There is really only one true pro of booking your Myrtle Beach rental later in the season — discounts.  When it's getting close to summer time,  there is still some availability left at condo rentals, not much, but it IS there.   Condo owners would rather have SOME income though, at a discounted rate, rather than no income at all, so that's when specials appear.  Keep in mind though, you are NOT going to get pick of the litter when you wait until the last minute.  The longer you wait, the less likelihood that your condo choice will become available.
Final Thoughts
So, you should ask yourself, "What is more important to me? Price or pick?" Would you rather make sure you have secured and booked your vacation rental for next year? Or would you rather risk the chance of availability in order to get a deal closer to vacation time?  Either way you have it, you can always check our availability live by doing a search or start browsing our condo rentals.