Here we go, people! Some new things to check out! Every month I pick 5 attractions you may or may not know about.  For April 2013, here we are: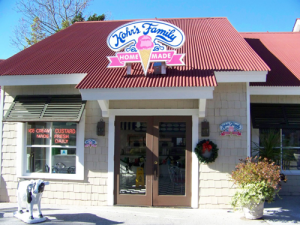 1. Kohr's Family Ice Cream
Barefoot Landing, 4898 Hwy 17 South, North Myrtle Beach 843-272-4969
My favorite!! With the warmer weather coming, you won't want to miss this. Menu includes frozen custard (YUM!), frozen drinks, soft drinks, water, frozen desserts, milkshakes and custard sandwiches (think ice cream sandwich). I am almost ready to leave my computer and go up right now! They only accept CASH so be prepared. It isn't cheap but it is definitely worth it!!
TIP:  Check out our post on best places to get ice cream in NMB.
Barefoot Landing was recently bought by Burroughs and Chapin, who own Broadway at the Beach, many of the area golf courses and several shopping complexes, including Coastal Grand Mall. Look for some changes and more events and activities at the Landing!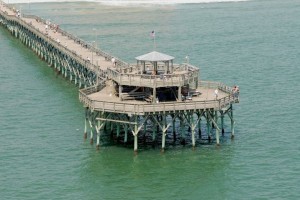 2. Cherry Grove Pier
3500 North Ocean Blvd, North Myrtle Beach 843-249-1625
Built early in the 1950's, owned by the Prince family since 1965, has weathered hurricanes and been remodeled and lengthened in 1999 after a visit from hurricane Floyd. It contained full service tackle, bait and gift shop, as well as a cafe.
Cherry Grove Pier also has a 2 story observation deck and record catches – including a world record 1780 lb. tiger shark and a record 98 lb. tarpon. It is 985 feet (long) of fun for the entire family! Even if you don't fish, the views are spectacular out on the pier! Fees start at $2 per person.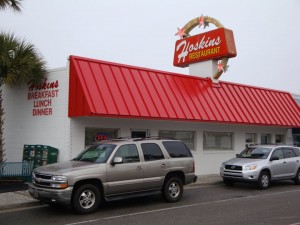 3. Hoskins Restaurant
405 Main Street, North Myrtle Beach 843-249-2014
This popular restaurant has just celebrated it's 65th year in business. What a milestone! Hoskins is known for its southern cooking and family atmosphere. This is not a buffet restaurant. They serve down home cooking that includes home-style breakfasts, fried chicken, fried flounder, okra, greens, meatloaf, salmon cakes, and much more. Save room for dessert with a slice of homemade pie!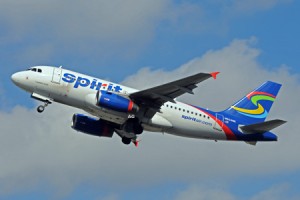 4. Spirit Airlines
Ok, so this really isn't an ATTRACTION, but did you know Spirit offers lots of non-stop flights directly to Myrtle Beach from many popular us cities, especially on the east coast? Another option for getting down to the Grand Strand! Seasonal service to Myrtle Beach from Philadelphia, PA (PHL) started with a flight to Myrtle Beach International Airport (MYR) April 26 and runs until November 5.
https://www.spirit.com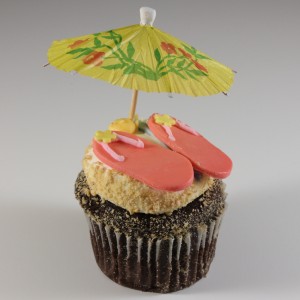 5. Coccadots Cake Shop
106 Sayebrook Parkway, Myrtle Beach 843-294-2253
Coccadots will compete for the second time on Food Network's "Cupcake Wars" . This latest attempt will air on Sunday, April 28 at 8PM. The competition will center around serving cupcakes to guest judge Tiffani Thiessen at her star-studded birthday party. Thiessen starred in "Saved By The Bell" and "Beverly Hills 90210."
Coccadots has two other locations, in addition to the Myrtle Beach location, both are in central New York State; Albany and Clifton Park. Coccadots bakes up a variety of cakes and cupcakes. Check out their showcase on their website and view some of their creations! Your mouth will be watering!
https://www.coccadotts.com/